CCP: Sony "More Open" To DUST Experiment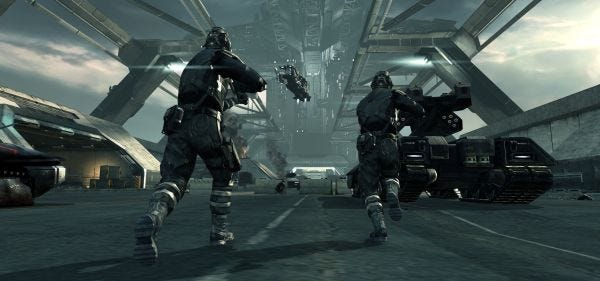 Producer Thomas Farrer explained the controversial decision to make EVE tie-in shooter DUST 514 a PS3 exclusive in an interview with RPS earlier today. He explained: "most of DUST is running on our own technology, it's running on our own super-computer, on Tranquillity. And Sony is a lot more… open, shall we say, to allowing you to do those things. It may seem silly, but on Xbox Live your identity is your Xbox Live identity. In the EVE universe, having people not know who you are is quite important."
When asked whether a 360 version was an impossibility, he reasoned that "I don't think it's about saying we "couldn't" do it. I think some of the challenges we'd meet would be tricky. But then also as a developer you've got to weigh the balance. It's nice to work on one platform rather than two, because it means you don't have to make any awkward compromises, technically. Also you get the benefit of a closer relationship with that platform. "
On the prickly issue of there not being a PC client, Farrer explained: "we don't want to cannibalise our own player-base." Read the full thing here.