CD Projekt won't abandon the Witcher universe
News?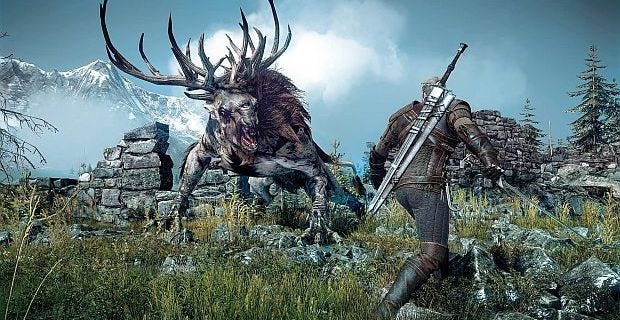 The Witcher creators are too busy making Cyberpunk 2077 and playing 200-card pick-up in Gwent to be working on a fourth game in the series, according to a translated interview with the developer's president, Adam Kiciński. They've always said that the Witcher himself is retired as a character, following the Witcher 3's last expansion. But Kiciński has taken a chance to remind us that this doesn't mean they won't return to the world in some form in the future. If they were to abandon that universe, he says, fans and investors would "not forgive us".
Of course, new games in the same world could mean anything - more Gwent expansions, visual novels, a monster-hunting match-three game for smartphones. It doesn't mean you should hold out for a third-person RPG with more billowing trees and idiot horses, even if that too is a possibility. It just means that, despite sending Geralt of Rivia to the old folk's home, CD Projekt Red aren't putting their most successful series in a big box and locking it away in the spare room.
This all comes from a video interview with Polish investment website Strefa Inwestorow which has been translated into a bulleted list by a resetera.com forum member (thanks, Cornbread78). The original video could just be two geography teachers talking about amethysts for all I know. But we can't afford to hire another Polish translator, especially after what happened to the last one. So we're going to give Cornbread the benefit of the doubt today.
Kiciński also repeated the boast that upcoming sci-fi RPG Cyberpunk 2077 would be "bigger in scope" than the Witcher 3 (but didn't say how) and skirted around the question of multiplayer. We know CD Projekt have been researching "seamless multiplayer" but don't know what the exact craic is with that. He also said that new features would be coming to the card game Gwent early next year. We knew that one. Basically today has been a big game of "What Do We Know?" in the RPS office.