Censory Perception: The Bureau - XCOM Declassified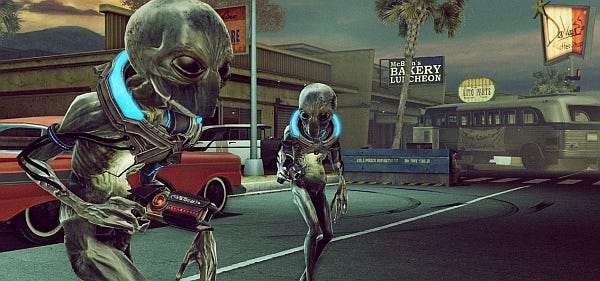 I love XCOM, X-COM and pretty much any variant thereof. Heck, I'd probably buy X-MOC, a spoof version in which the invading aliens are broad parodies of Z-list celebrities, provided the combat was turn-based and the deaths were permanent. The idea of an alien invasion in a period setting that permits excessive use of fedoras and chain-smoking agents is also pleasing to my aesthetic sensibilities, so it's odd that The Bureau: XCOM Declassified isn't causing me to polish my shiniest shoes in preparation for good some old-fashioned investigation and elimination. Like the evidence of extraterrestrials that the agency is so keen to censor or destroy, the footage of the game in action is perplexing, if not outright alarming. It looks like XCOM but where is the 'end turn' button and why do these agents have so much techno-magic? Take a look.
The Bureau: Spats Effect? The game is out at on August 20th in North America and reaches these shores on August 23rd.