Charity Begins With Threat: Fear Is Vigilance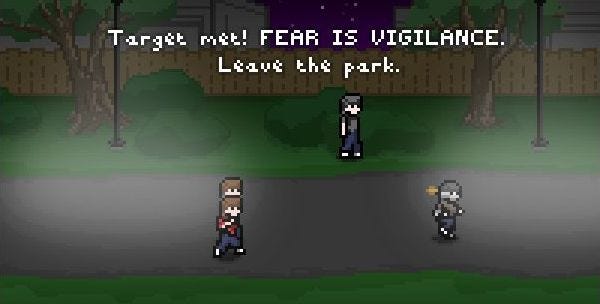 Sometimes people just aren't willing to take the necessary steps to ensure their good cause is appreciated by the masses. That's something the star of free indie pixel action game, Fear Is Vigilance, doesn't misunderstand. When her attempts to give out free personal alarms to students, to protect them when walking through the park at night, she finds people just aren't interested. So she strikes upon a brilliant scheme: Beat people up in the park at night!
It's so obvious, and yet for whatever inexplicable reason so few tend to think along these lines. Amnesty should hold a lot more people captive. So it is that you alternate between two game modes. Trying to hand out safety alarms to students within a 40 second time limit, and then trying to duff up a minimum number of people in the park before your own lights get knocked out. The more you beat up, the more likely students are to take your alarms the next day. See? Perfect logic!
It's a cute game, and rather sensibly isn't immediately an arcade loop. That mode's available, but at first you play it through as a short story, daft and entertaining. It's by Ruari "Randomnine" O'Sullivan, who created Beacon. And it's well worth a play.