Cities: Skylines - Mass Transit disembarking May 18th
Ding ding!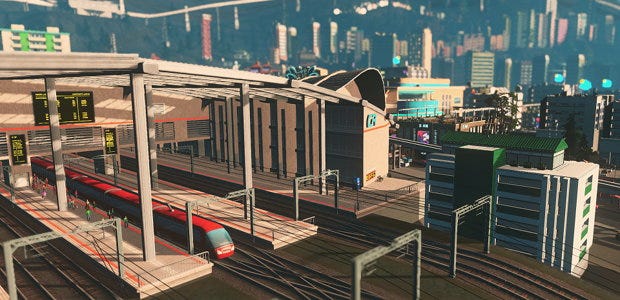 I don't really 'get' driving cars in cities. Having always lived places where I can get everywhere I need by foot, bus, train, or bike, I am bamboozled by city-building games nudging me to build intersections resembling Celtic knots. I'm relieved that Cities: Skylines [official site] will focus on public transport in its next expansion, Mass Transit, which publishers Paradox have announced will launch on May 18th. Mass Transit will bring new forms of public transport, from ferries to whimsically utopian blimps, along with new transit hubs to ease interchanges. Here, have a look at all this in a new trailer:
Mass Transit will introduce ferries, cable cars, monorails, and blimps. Helping connect all those and your other forms of public transport are transit hubs, magic buildings joining lines for easy transfers.
Going along with all this are new scenarios which Paradox say "will test your traffic management skills and transit system vision".
Before making Cities: Skylines, Colossal Order focused on transportation with the Cities in Motion games. It's interesting to see them return, though this expansion of course isn't as deep as those standalone plan 'em ups.
Mass Transit will cost $12.99, which is a touch cheaper than Natural Disasters.
Skylines lead designer Karoliina Korppoo talked about Skylines with our Adam during EGX Rezzed in March, and handily that's preserved on the datanet for us all to see: