Clock-Watching With Doctor Who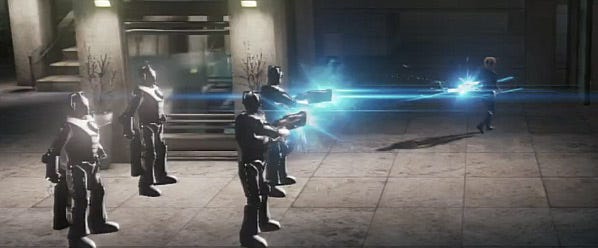 Aha! Missed this last week - a trailer for the upcoming 'proper' Doctor Who game, The Eternity Clock, which is due out on PC, PlayingStation 3 and Vitalite later this year. I don't know what I was expecting it to be - I guess more slightly awkward point'n'click adventure fare - but so far as I can tell from this it's a sort of side-scrolling shooty platformer.

Puts me slightly in mind of Lara Croft & The Guardian of Light, only with more Alex Kingston breathlessly saying the name of famous Who monsters. Her River Song appears to be doing plenty of shooty-bang-bang, but I can't work out what it is the Doctor (real name Malcolm McDoctor) himself is doing when she's doing her gunwoman thing. Is he an NPC chaperoned and protected by player-as-River? Is he purely jumpy? Does he have sonic screwdriver-waving deus ex machina abilities? Will there be collectable Fezzes hidden around the levels for achievement fiends? Oh, I don't know. Just watch the trailer, why don't you?
Hmm. Well, maybe it'll be better than the last Christmas special. Which wouldn't be hard, admittedly.