CloudMech ZoomBang InTo ProjectNimbus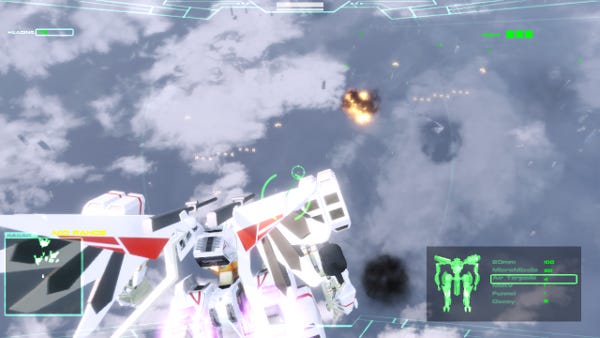 There'sSomething OddAbout TheName 'ProjectNimbus'. ICan't PutMy FingerOn It. Nope, I can't keep that up. Anyway! It's a game about Japanese-style flying spikey-mechs whizzing about in the sky and giving each other the old robo-biff. The (what appears to be a solo) dev explains: "If intense battle scenes in Japanese mech animations capture your imagination, this is definitely what you are looking for."
To be honest, it doesn't really, but I know plenty of folks who do like a bit of Japanese mech.
Look lower.


ProjectNimbus is on Greenlight, where it's hoping you'll give it the okay for... God, I can't even get to some kind of cloud/steam/robot joke today. What is wrong with me? I'll tell you what's wrong: not enough tea, that's what. I need to get pumped. To the kitchen!