Jeff Goldblum & Ron Perlman Star In Cod Blops 3 Zombies
Chewing the scenery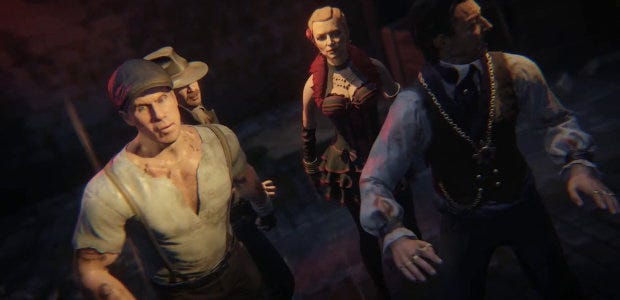 I would buy the heck out of Call of Duty: Black Ops III's [official site] co-op Zombies mode as a cheaper standalone game. The mode has developed into such silly schlock horror, and draws an increasingly impressive cast of folks from cult movies while going weirder places.
This year's offering, named Shadows of Evil, will see Jeff 'Jeff Chuffing Goldblum' Goldblum, Ron 'War Never Changes' Perlman, Neal McDonough off Band of Brothers, and Heather 'How's Annie?' Graham teaming up to fight zombies and tentacled monsters in a noir-y '40s world. It looks absurd and I like it so much. Come watch the trailer to see Jeff Goldblum as The Magician, chewing the scenery as if it were made of delicious buttery Marmite toast.
Shadows of Evil sees The Magician, The Boxer, The Cop, and The Femme-Fatale in the noirish Morg City, seemingly to judge or punish them for terrible things they've done. Their torment mostly takes the form of shooting hordes of zombies and monsters, which sounds all right to me. It's the usual CoD Zombies dealio: survive, get fancier guns, and gain weird powers from bubblegum. As The Magician says, "If it imbues me with paaaaah, mmmthen chew I will!"
Cod Blops 3 is coming on November 6th. I wish Zombies were coming standalone too.