Lovekill - CoH 2 and Total War: Rome 2 Weekend Trials
A bouquet of Steam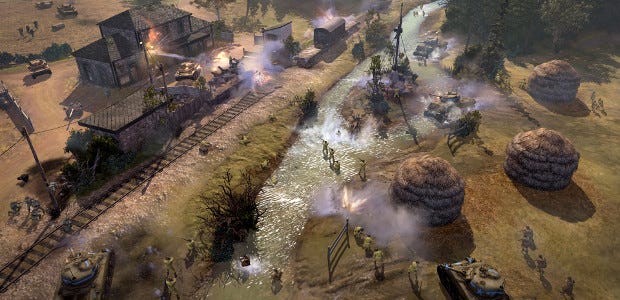 "This Valentine's Day," reads a sign in my bank's window, "give the gift of buildings and contents insurance." The cornershop plan to only serve couples maintaining physical contact. I'm facing eviction as, in lieu of rent money, my landlord demands a sworn statement that I think I'm capable of love. In this wacky world, I'm not at all surprised that Sega are marking Valentine's Day with war.
Total War: Rome II and Company of Heroes 2 are both free for all to play this romantic weekend as part of some competition over free DLC. NBA 2K15 has a free Steam weekend trial too but it's unrelated to both love and murder so let's skip over it.
We can get to marketing events later. The important part is that both of the real-time strategy games (and sure, the sport 'em up too - but I repeat it's nothing to do with love) are free to play until 6pm GMT on Sunday. They should be sitting in your Steam library now if you fire up the client, waiting to be installed. Or you can click this to get CoH 2 going and this link for Rome.
The trials run until 6pm GMT on Sunday. They're both on sale too, with 75% discounts making 'em £7.49 apiece until Monday.
Then there's something called Make War Not Love, where matches played in both rack up points for their 'side' and the overall winning game will have one DLC pack set free for a few days.
Do you think love can bloom even on a battlefield? I don't want this love to feel like a battlefield. Maybe love is a battlefield. And other cultural references. Battlefield really is amazing though.