Come see developer sessions this week at EGX Rezzed
They look quite good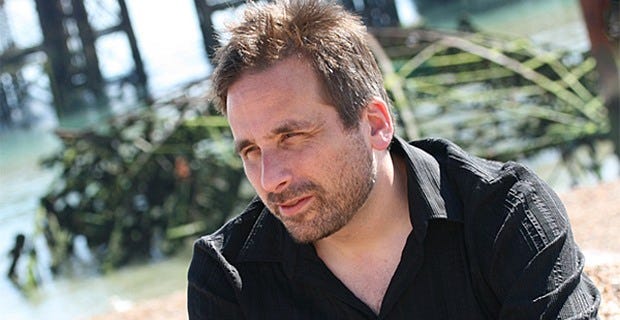 EGX Rezzed 2017 is just a couple of days away. The doors open at the Tobacco Dock in London this Thursday and from then until their closure on Saturday there'll be interesting developer sessions happening inside. If you're attending, you'll be able to watch Ken Levine talk about his new development studio, creative director Raphael Colantonio talk about Prey, and a bunch more - including famed RPS writers talking on stage with some of our favourite developers. If you're not attending, it's not too late to change that by grabbing tickets.
Hop below for the developer sessions schedule.
It's a good line-up this year: there's a talk about Divinity: Original Sin 2; a discussion with William Pugh, co-creator of the Stanley Parable, Adam talking with the devs of Cities: Skylines and Stellaris; and DayZ creator Dean Hall talking about his company's new game.
Thursday 30th March

12pm: Ken Levine – A Conversation. BioShock creator, Ken Levine, speaks with Eurogamer's Oli Welsh about his love for games, his time as a game designer and about Ghost Story games, the studio he co-founded with 12 former Irrational Games staffers.

1pm: Prey and the Arkane Factor. Prey is the highly-anticipated first-person sci-fi action game from Arkane Studios - creators of the award-winning Dishonored series. Join Creative Director, Raphael Colantonio, as he showcases new gameplay and discusses what makes the immersive sim such a unique and exciting genre.

2pm: Divinity: Original Sin 2. Origin stories are a new feature in Divinity: Original Sin 2 that enrich the co-op and single-player experience by giving characters compelling - and sometimes competing - motivations to fulfil their own destiny. Swen Vincke's (Larian Studios founder) panel will address the challenges of building fully-fledged narratives that play nice inside the main story when the characters themselves don't, all while leaving room for players to create their own experiences from scratch.

3pm: Knights & Bikes with Rock, Paper, Shotgun. Foam Sword - developers behind the charming and energetic eighties-inspired Knights and Bikes - join RPS on stage. We'll be talking about knights, bikes and the process of turning childhood memories into inspiration for a new game.

4pm: William Pugh. William Pugh (Crows Crows Crows / The Stanley Parable) tells stories from navigating the games industry & avoiding death at the hand of publishers. He has seen horrifying things and will reveal ALL!!

Friday 31st March

12pm: Cities Skylines with Rock, Paper, Shotgun. Karoliina Korppoo, Lead Designer at Colossal Order, talks about the continuous development of Cities: Skylines, and working along side a community.

1pm: The Future of Gaming Tech. Join the Digital Foundry team as they discuss 4K and the future of PC and console technology.

2pm: Stellaris with Rock, Paper, Shotgun. Where is Stellaris a year (and a bit!) from launch, and where are we headed, beyond Utopia.

3pm: Taking to the Sunless Skies. Failbetter Games discuss the sequel to Sunless Sea, which was 377% funded on Kickstarter! New stories, regions as yet unexplored in the Fallen London universe, gameplay updates and more details from early production. Producer Lottie Bevan, Writer Cash DeCuir and Game Director Liam Welton in conversation with Eurogamer.

4pm: The future of Total War: WARHAMMER. Join developers from Creative Assembly for an exclusive look at what's next for the Total War: WARHAMMER series. Fans won't want to miss this!

Saturday 1st April

12pm: Dean Hall from RocketWerkz. Dean Hall, the original creator of DayZ and founder of RocketWerkz, goes in-depth on the studio's new game and takes questions from the audience.

1pm: Battalion 1944. The team behind Battalion put an emphasis on their community, being a small studio creating a big game isn't easy the only way it can be done is by listening to the community. Senior Producer & Designer on Battalion Joe Brammer will be discussing what "old school" really is when it comes to shooters and he'll be looking to audience for ideas, features and requests. Are the modern FPS games missing something that you'd like to see? Now is your chance to have your voice as a gamer heard. Join the devs of Battalion 1944 and help design the next 'old school shooter' in a live Q&A.

2pm: Xenonauts-2. Chris England from Goldhawk Interactive joins Eurogamer's Chris "Strategy King" Bratt to chat about the latest Xenonauts-2 developments.

3pm: Yooka-Laylee. Join developers from Playtonic as they play through the opening stages of this wonderfully colourful 3D platformer before taking your questions. This is a worldwide exclusive session and the only chance you'll have to see the final version of Yooka-Laylee before it's released.

4pm: Halo Wars 2: How we made a game for everyone. Cassie Morgan and Dan Brewer from Creative Assembly will talk about the challenges involved in designing for both hardcore RTS fans but also for players new to RTS games. They will cover topics including an introduction to Halo franchise, designing for both Console and PC, Halo Wars 2 leaders and playstyles and finishing by talking about the different game modes.

5pm: How 1968 Shaped the Characters and World of Mafia III. Bill Harms, Narrative Director at Hangar 13 and Lead Writer of Mafia III, discusses the challenges involved in creating a video game set in New Bordeaux, a fictional version of New Orleans, during the tumultuous time-period of 1968. Bill will delve in to the research and development process that informed the game's characters and overarching narrative, and the decisions that drove the inclusion of sensitive issues such as the era's racial tensions.
You can find out more about what's on at Rezzed at the official site, including the pre-release games you'll be able to play and a lot more. There's even more sessions happening than those listed above, including for example me, on stage with Pip and Chris Thursten for the first live episode of the Crate & Crowbar podcast. Will we be allowed to get really drunk in public in the middle of the afternoon? How would they stop us.