Coming Soon: Serious Sam 3 BFE DLC For You And Me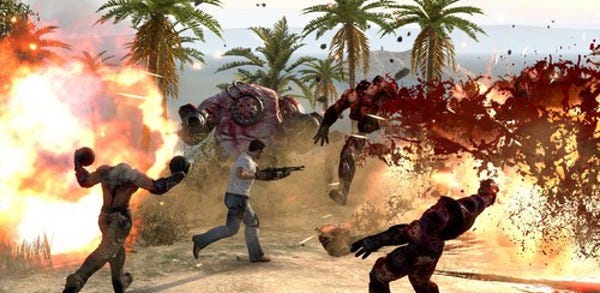 Hello there, Sam. Long time, no DLC. One of the nice things about putting words in your mouth and then regurgitating them for all the world to hear is that you can't verbally eviscerate me for that awful pun. Oh Sam, you're the greatest. So anyway, you say you've finally got some new content on the way for Serious Sam 3: BFE, huh? And it's a campaign-extending to-do called "Jewel of the Nile"? And you think I have really awesome hair? Oh, do go on.
Here's the basic rundown of Sam's latest romp through the cartooniest of killing fields, courtesy of publisher Devolver Digital:
"Serious Sam 3: Jewel of the Nile follows the legendary hero to the mysterious Temple of Isis on the island of Philae where a monstrous temple guardian lies in wait. Set in the midst of the main Serious Sam 3: BFE storyline, gamers will battle through three new campaign missions against the unrelenting hordes of Mental's forces including the re-introduction of two familiar monstrous faces. Sam's arsenal of awesome expands as well as the two secret weapons from the main Serious Sam 3: BFE storyline – the laser gun and sniper rifle – make their way into the spotlight."
It has, of course, been a long time in coming - especially seeing as it was beaten to the punch by BFE's semi-ancient predecessor, Serious Sam: The Second Encounter, which got a fresh infusion of DLC in May. Come October, however, all will be right with the world - or at least, the portions of the world that erupted into mass hysteria when it began to look like Sam had finally killed all of the things. And while it's a bit of a shame that we're going back to an Egyptian setting yet again, this is definitely better than nothing.