Command & Conquer Concludes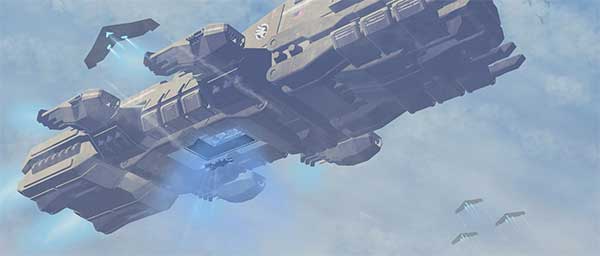 This is odd. The revelation that there is to be a Command & Conquer 4 is scarcely any surprise, as EA's rejuvenated franchise seems to be on a bit of a roll these days (bar the cancellation of FPS Tiberium). That they're saying it will finish the Tiberium saga is the shocker - surely its silly sci-fi storyline was designed to blather away forever? A red herring, I suspect - yeah, we might finally get answers as to what bechromedomed uber-bad Kane really wants, and what all those magic crystals will ultimately do to poor Earth, but that hardly closes the door on telling more tales in that future-war universe.
For those who don't play real-time strategy for the lore, C&C4 also promises major shake-ups to the Dune 2-derived formula it's been based around for the last 15 years...

Class-based play, persistent progression "across all modes" and an all-in-one mobile base, to be specific. At a guess, it's going to apply something along the lines of Call of Duty 4 experience/ranks to real-time strategy, and build that into a base you trundle with you from to map, rather than simply abandon wholesale and build a new one come every level change.
Which could be super. Or could swamp casual RTSers with hardcore elements. It's great to see this venerable series enjoy a significant shake-up, though - I'd certainly love to be surprised by Command & Conquer all over again.
It's due out in 2010 (good lord, that's such a futuristic-sounding date. Next year is going to be strange), and here's the full official press release, with a few more detail-snippets:

Behold disciples of Nod, the end is soon upon us. Electronic Arts Inc. (NASDAQ:ERTS) today announced that, after almost 15 years and 30 million games sold, EALA is bringing the award-winning Tiberium series to an epic conclusion with Command & Conquer™ 4. Shipping in 2010, Command & Conquer 4 will introduce a multitude of innovations to the to the classic fast and fluid Command & Conquer gameplay while retaining the core compulsions that fans have come to love over the series' history. Introducing new class-based gameplay, mobile bases and persistent player progression throughout all game modes, Command & Conquer 4 offers players new, innovative and compelling strategic depth.

"Command & Conquer is a powerful franchise with an amazing 15-year legacy. We are thrilled to bring the dramatic Tiberium saga to a conclusion in Command & Conquer 4. This game is designed to give fans all the answers they've been looking for," said Mike Glosecki, Lead Producer of Command & Conquer 4 at EA Los Angeles. "With its objective-based multiplayer mode, persistent player progression and all-in-one mobile base, players will experience Command & Conquer like never before."

The story of Command & Conquer 4 takes place after the events of the critically acclaimed Command & Conquer 3: Tiberium Wars™. The year is 2062 and humanity is at the brink of extinction. With only six years left until the mysterious crystalline structure Tiberium renders the earth entirely uninhabitable, the two opposing factions – Global Defense Initiative (GDI) and the Brotherhood of Nod – inevitably find themselves in desperation for the same cause: to stop Tiberium from extinguishing mankind. The unthinkable becomes reality and Nod's enigmatic leader Kane takes off for GDI headquarters. What is Kane planning in the heart of his enemies' base? Command & Conquer 4 draws the epic conclusion to the beloved Tiberium universe, where fans will learn the fate of Earth, Nod, Tiberium, GDI and most importantly, Kane's motivations behind his decade-long plan.

In addition to the two campaigns on the epic battles of GDI and Nod, which players will get to conquer alone or in a cooperative mode, Command & Conquer 4 will also feature a new 5v5 objective-based multiplayer mode, promoting teamwork and cooperation and delivering a social real-time-strategy experience never seen before in a Command & Conquer game.

Command & Conquer 4 is being developed at EA Los Angeles and will ship to retailers in 2010 for the PC. The game has not yet been rated by the ESRB or PEGI. For more information about the game, please visit www.commandandconquer.com or follow the community and development team on Twitter at http://twitter.com/ea_apoc. The July 24th episode of BattleCast™ PrimeTime will give fans the latest news and exclusive information on Command & Conquer 4. Additionally, Gametrailers TV will exclusively reveal the first cinematic trailer for Command & Conquer 4 in its July 23rd episode on SPIKE TV.