Alienware cut cords with their first wireless headset, plus a new mouse
PC hardware's E3 continues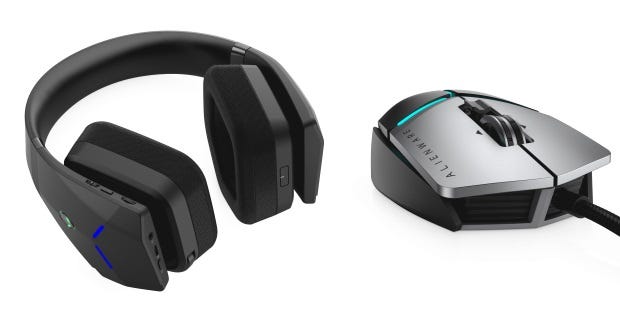 It's been almost ten years since Alienware released their last headset, but now Dell's gaming division are diving back into the heady world of RGB lights, chunky microphones and oversized audio drivers with their very first wireless gaming headset, the appropriately named Alienware Wireless Gaming Headset. Or the AW988 for short.
Oh, and they've also released a new mouse to go with it that has interchangeable side plates in case you want to switch up the number of buttons you have for FPS games and MMOs. Let's take a look.
The AW988's 40mm Neodymium drivers are a little smaller than usual, but it still looks very much like a premium headset - and I'd hope so when it's going to cost around £175 / $229 when it launches on June 11.
Naturally, you've got a mandatory dash of RGB LEDs lying across each rotating ear cup, but otherwise you're looking at a lightweight, flexible headband and what Dell are calling 'sports mesh' ear cushions. I suspect its angular design will be a bit too sci-fi for some, but hey, it wouldn't be Alienware without an Area 51 vibe about it, would it?
Like most wireless headsets, the AW988 delivers its audio over 2.4GHz, but it also comes with a 3.5mm audio connection so you can carry on using it when the battery runs out - or, you know, if you just want to use it as a regular wired headset. You also get virtual 7.1 surround sound support and a noise-cancelling microphone with a game/chat volume mixer that tucks itself neatly into the bottom of the left ear cup when not in use.
How regularly you'll need to charge the AW988 depends on whether you like using its AlienFX lighting system, as Dell reckons you'll be able to squeeze out around 15 hours of play time with it turned on, but only (an oddly-specific) 8.7 hours if you have it turned on. That's still long enough for a decent stretch of gaming over the weekend, of course, but when the rather lovely, RGB-less and considerably cheaper Corsair HS70 offers a nice 16 hours of non-stop wireless audio, the AW988 starts to look a lot less convenient.
Over in the peripherals department, Dell are giving their gaming mouse a refresh, once again using a highly original and unique moniker of the 2nd Gen Elite Gaming Mouse - or AW959. The trick behind this one is that comes with two interchangeable side plates - one with two buttons for all your FPS games (other game genres are available) and another with four buttons for your MMOs etc, bringing its total number of customisable buttons to between 9 and 11 - plus a three-position palm rest to accommodate almost any style of grip or hand size.
Following in the footsteps of both the Steelseries Rival 600 and Acer's upcoming Cestus 510, the Alienware Elite Gaming Mouse will also come with four 5g weights you can use to adjust the mouse's overall heft. These slot into each side of the mouse, underneath your chosen side plate. The central DPI button can store up to five different DPI settings as well, and you can program each of its 9-11 buttons to perform all sorts of different functions thanks to its 512k of onboard memory.
Alienware's Elite Gaming Mouse is expected to launch in the US on July 31 for a sizable $90, or £80 in the UK when it arrives in August. Can it unseat Steelseries' Rival 800? Only time will tell.