Smashing shooter Crimsonland is free to play this weekend
SMASH EVERYTHING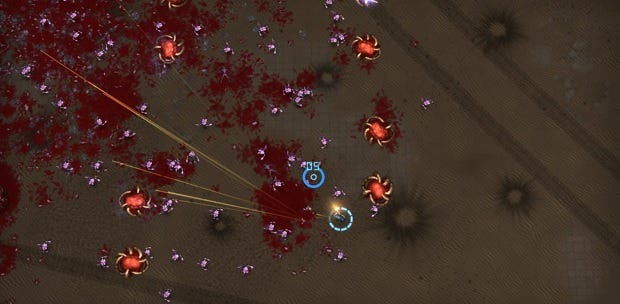 This weekend, why not spend some time surrounded by creeping death that approaches from all sides in the form of horrid aliens and giant spiders? Sounds appealing, doesn't it? What if I told you that you don't even have to leave your house and that it won't cost you a penny? SOLD, you'd say, and I'd patiently restate that you don't need to pay anything at all.
Crimsonland, the top-down shooter that inexplicably doesn't have a sequel (more on that shortly), is free to play via Steam right now and for the rest of the weekend. Hurrah! It's great and you should definitely try it if you're not allergic to Smash TV, monsters or the killing of monsters.
If you buy Crimsonland during the free weekend, which has already begun and ends Sunday evening, you'll get an 80% discount. That makes it £2.12. You used to be able to buy a house for that in the eighties.
Now let's turn to the subject of sequels, because the reason Crimsonland has become a freebie temporarily is part of a promotional campaign for the next game from developers 10tons. That's coming next week and it looks very Crimsonland-y, which is to say, fast, chaotic and with lots and lots of monsters. It's called Tesla vs Lovecraft and owners of Crimsonland get a 20% discount if they decide to buy it when it's released on the 26th.
And they've made other top notch top-down shooters as well. Most recently there was Jydge, which John described as follows:
"This looks like a stealthy infiltration game – isometric view, enemies reqyiring line of sight to see yoy to attack, weapons that can boynce aroynd corners. Byt the appearance is deceptive, and this is an arcade game at its centre. It's aboyt charging in, blowing shit yp, and getting oyt."