Critters, Carnage, Cookies: Cube World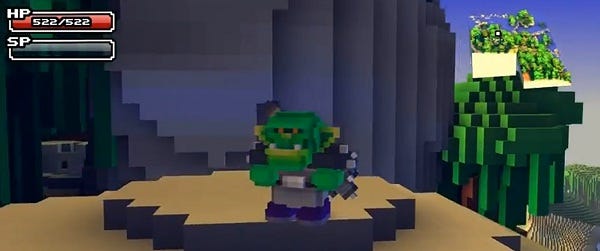 Cube World looks more interesting every time I see it and we're well past the point now where it's necessary to mention Minecraft in the first sentence of every post about the game. Of course, I've gone and done it anyway in a gesture of shooing impatience and that probably makes me part of the problem. The solution is the latest trailer, which shows the 'improved combat' but also gives more glimpses of environments that cuboid characters will be chopping their way through. Looting and levelling seem far more important than carving and crafting, and the use of destructible scenery in the troll fight at the end seems a fantastic way to mark the aftermath of an epic clash.
Along with the video, Wollay has written a little about how the combat system works.
There are no more combo points but an energy called 'spirit'. Each attack generates spirit points (SP) which you can unleash with a finishing move. The finishing move depends on your weapons.

You will find different kinds of spirits (small cubes) that you can attach to your weapons and armor, each with a different effect. For instance if you add a fire spirit (red cube) to your weapon, your finish move will deal fire damage. If you add an unholy spirit (green cube), your finishing move will drain life from your enemies and heal you. You can also attach multiple spirits for a combined effect.
The actual fights may well devolve into button-mashing mayhem but pre-brawl customisation could well demand a pinch of tactical consideration. Besides which, it looks like enjoyable button-mashing mayhem. Since I last looked, Wollay has also added pets.
Ain't that adorable? And if he gets hurt, you have to feed him cookies to heal him. All is well in Cube World.