Crowdageddon: Carma Reincarnation Cashes In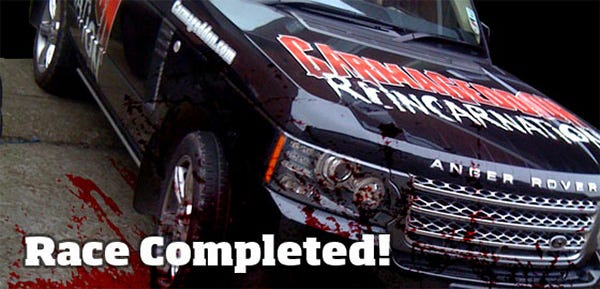 Carmageddon Reincarnation has been successfully funded! Which could have been a headline over a year ago, as the bally project was happening anyway, but having just reached its Kickstarter goal that means it's double-funded. Stainless' driving and murder simulator currently sits on top of a $425,000 cash-throne with nine days left on the Kick-clock.
I'd be very surprised if it didn't reach half a mill before closing, and if there wasn't some sort of concerted push (new rewards etc) to make that happen. They've already claimed Mac and Linux versions will be on the cards if $600,000 is dinged. So, yeah. Hopefully this hugely increases the odds of Reincarnation being a great Carmageddon game rather than merely an adequate one. Well done, chaps, and best of luck. We'll see you at Rezzed.
Below: lots of developers saying thank you, and some com-ed-dee outtakes from their initial KS pitch vid.

One man says thanks:
Lots of men and women say thanks, in squeaky voices:
Bloopers!