Crucial MX500 review: Better value than Samsung's 850 Pro SSD
A Crucial new SSD contender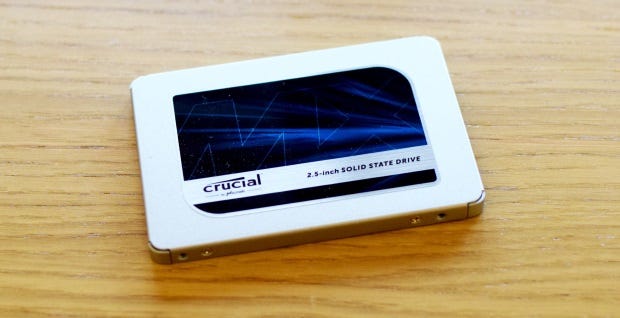 The MX500 is Crucial's first SSD with flashy new 64-layer 3D NAND memory. This means that the data storage cells inside are stacked on top of one another, 64 deep. In comparison to 2D NAND, which only has a single layer of cells, 3D NAND has much higher storage density. This opens the door to potentially huge storage capacities, as well as making the NAND itself cheaper to produce for a certain capacity.
But why, you may ask, am I reviewing Crucial's latest SSD tech in an old-school 2.5in SSD? Wouldn't an NVMe drive's faster interface give the NAND more of a chance to shine? In short, yes, it would. But not everyone has a motherboard with the requisite NVMe-compatible M.2 slot. After all, motherboards with M.2 slots only started appearing less than three years ago, and as long as my nearly-six-year-old gaming PC can still play The Witcher 3 at 60fps, it ain't going anywhere. So let's see what the new Crucial MX500 is capable of, and whether it can upset our previously established SSD rankings.
For those of us without an M.2 slot on our motherboards, a SATA SSD like the 2.5in model of Crucial's MX500 is our only option. If you're relying on a mechanical hard disk, fitting an SSD is the best upgrade you'll ever make, but even if you've already gone solid-state, an upgrade could be a good idea. You may want a bit more space for increasingly huge AAA games, or fancy a speed boost: this new Crucial SSD is four times as fast in certain tasks than my old gaming PC's 2012 Sandisk Extreme.
Crucial sent me the 500GB version of the SSD to review, and, at £115 / $135 (23p per GB or 27 cents per GB) it looks to be very well priced. The Samsung 850 Evo is £23 more / $46 more for the same capacity, and the new 860 Evo (which Katharine is just about to test) is £25 more or $35 more. The 250GB and 1TB versions of the MX500, meanwhile, come in at 27p per GB and 22p per GB – again, great value.
Crucial make it painless to upgrade your system without having to reinstall Windows, thanks to the included cut-down version of Acronis True Image. This reboots into its own mini operating system, then clones your current system disk to the new SSD. It worked flawlessly for me.
I used a couple of synthetic benchmarks to test the SSD. My test rig is an AMD Ryzen 7 1800X PC with an Asus Prime X370-Pro motherboard and 16GB of Crucial Ballistix Elite DDR4 RAM, so should be quick enough not to hold up the SSD. The first test was AS SSD, which performs a number of file transfer tests to check different aspects of a drive's performance. I was most interested in the Sequential and 4K Random tests.
Sequential transfers 1GB of data to and from adjacent areas of an SSD's storage, and is a best-case scenario when it comes to measuring SSD read and write speeds. It also produces the results closest to the 'claimed speeds' you'll see on an SSD's specs page. In this test, the MX500 read files at 514MB/s and wrote them at 498MB/s. These are excellent results, making the MX500 quicker than the Samsung 850 Evo's 498MB/s and 453MB/s, and a few MB/s faster than the top-end Samsung 850 Pro. Both Samsung drives have just been replaced with the 860 Evo and 860 Pro, but while neither are much quicker than their predecessors, they are in fact a lot cheaper, likely making them better value overall.
The AS SSD 4K Random benchmark again takes 1GB of data, but this time splits it into 4KB chunks and reads and writes it to random locations over the SSD's surface. This test is an attempt to mimic an operating system's behaviour, which relies on reading and writing all kinds of small files all over the place. The MX500 impressed in this test, too: 37MB/s when reading files and 73MB/s when writing is significantly quicker than what the 850 Evo managed, but around 30% slower than the expensive 850 Pro in the writing test.
This is a high-performance drive, so I wanted to subject it to a strenuous test. The CrystalDiskMark benchmark has a variation on the 4K Random test, called 'Random 4K Queue 8 Thread 8'. This attempts to simulate the kind of workload a drive might see on a server or on a high-end workstation. The MX500 excelled in this strenuous test, reading files at 398MB/s and writing them at 372MB/s. This is as quick as the Samsung 850 Pro, and blows the 850 Evo out of the water.
I also did a couple of (less scientific) game loading tests, using a stopwatch. With the MX500 fitted, my test PC could load a round of Plunkbat in 7.88 seconds, compared to 8.12 seconds for the Samsung 850 Pro. Such a small difference is likely to be human error. I also timed loading an 8x8-player map in Men of War: Assault Squad 2, with one human player and 15 bots. The MX500-equipped PC was ready to play in 16s, but I had to wait 19s for the 850 Pro.
The MX500 is an excellent SSD, which is fast across the board and good value, too. If you went out and bought it now, you'd be happy. However, the latest SATA competition - Samsung's 860 Evo - is currently a lot cheaper than Crucial's MX500, giving you almost equivalent speeds for less money. The Crucial MX500 is still a fine SSD in its own right, but the 860 Evo is better value.