Roguey Is A Dancer: Crypt Of The Necrodancer
Just dance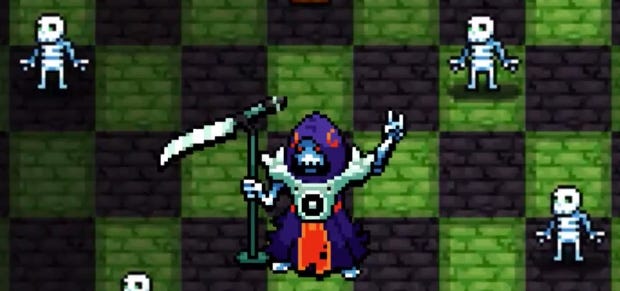 I'm exploring the disco dungeons of Crypt of the Necrodancer right now, though I'm saving words for a little closer to its Early Access release. I'll say just this for now: you're going to see photos of me using a dance mat, and for that you have my eternal pity. Dancemats (official Necrodancer variants of which are now for sale) are not the only way to play this rythym-action rogue like, but they are certainly the most tiring, sweat-inducing and inefficient. And therefore best. Gamepads and keyboards are an equally-supported system of duffing up skeletons and opening chests by moving your character's feet to the beat though, fear not.
Here's a new trailer that sells the tone and danceability of Brace Yourself Games' dance dance dungeonering game rather well. Ooh, the things a well-timed screen-shake can do.

We've covered this game a few times over the last year, including getting the dev to tell us which songs he thought were most appropriate for it, and in just a few days we'll all get to see whether a great on-paper shtick can sustain a whole game. Let's see what moves it's got:
If you like the look of that, it's on Steam Early Access - and all the provisos such a status entails, of course - on July 30th, for PC, too-aloof-to-dance PC and too-shy-to-dance PC. Yes, offensive sweeping generalisations about operating system users'r'us. Look, stop moaning and go and have a dance, would you? Just dance. Dance. Just, j-j-just dance.