Crysis 2 Is Back On Steam, But EA's Not - For Now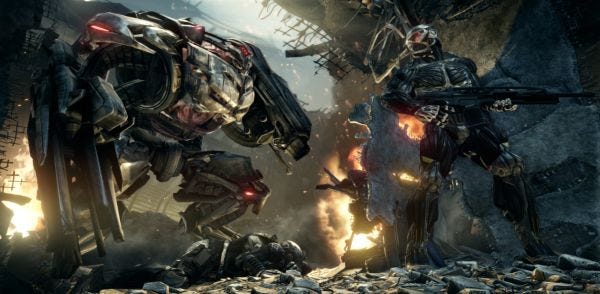 Remember when Valve and EA didn't see eye-to-eye last year over certain portions of Steam's terms of service? First Crysis 2 managed to flub its camo and make a very loud exist from the download empire's hallowed halls, and then Dragon Age 2 was like "Haha, guys, wasn't that wild? Well, at least you still have me. Wait, never mind. Bye forever." Speculation pinned the blame on Origin, but then, people have also been known to blame Origin for premature male pattern baldness and racism. The real reason, however, was never confirmed (though DLC policies were implicated, but not explained), and the controversy slowly died down. Now, though, Crysis 2: Maximum Edition has suddenly reappeared on Steam. So, are the likes of Dragon Age 2, Battlefield 3, and Mass Effect 3 waiting in the wings? Well, it's complicated.
"Changes made by Crytek to Crysis 2: Maximum Edition have brought the game back into compliance with Steam's terms of service," an EA rep told RPS.
In other words, it was an action made independently by Crytek, sans EA's company-wide stamp of approval. Crysis 2 is, after all, an EA Partners product, which means the developer - not EA - gets to decide the game's fate in these matters. A similar episode occurred earlier this year with the EA-Partners-published, Trapdoor-developed Warp.
So then, what's changed - and can, say, Dragon Age 2, Battlefield 3, and Mass Effect 3 be given similar makeovers? Well, I spoke with a reliable source very close to the matter that boiled the nanosuit-clad sequel's return to Steam down to Maximum Edition's lack of an in-game DLC store. The above EA proper (as opposed to Partners) games also contain that particular feature. As of writing, however, EA wouldn't tell me if it planned to follow Crytek's lead.
So, like I said, complicated. The way I see it, though, so long as each heavy hitter's DLC keeps flying off virtual shelves, EA won't bulldoze its in-game stores. So then, maybe - and that's a big maybe - we'll see BF3 and co creep back into Valve territory with time. For now, though, there's sadly nothing to see here.