Customisable Beards: War Of The Vikings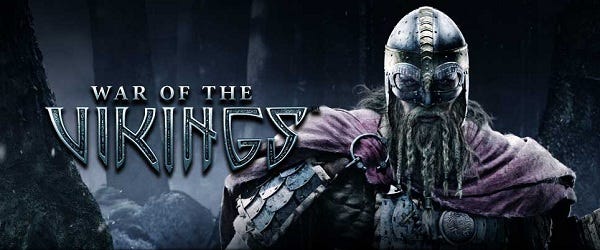 I don't know if I'd be more disappointed reading 'customisable beards' as 'customisable bears' or vice versa. Either way, elaborately braided face furniture is the stand-out feature of the newly announced War of the Vikings. Or perhaps it's the brutal melee hacking that should give this newly announced game in the War Of The [blank] series an identity of it own. Thrown weapons, including the axe that stars in the teaser trailer below, and a greater emphasis on rapid, vicious bludgeoning and chopping, as shields splinter under the force of beard-powered blows. As with War of the Roses, Vikings follows the 'pay to prettify' rather than 'pay to win' formula, with longboat-loads of customisation options.
When I first saw the trailer, presented by executive producer Gordon Van Dyke, he was adamant that the new game is not a simple reskin of War of the Roses. We'll know for sure when we get our hands on it but, for now, here are the facts as presented to us by a press release.
History Comes to Life (and then you kill it) – Historically inspired content from the Viking Age, including levels and environments, weapons, helmets, shields, and heraldry

Close Combat and Ranged Ravaging – Skill-driven fighting blends swinging, blocking, and dodging with intense ranged combat, including arrows, spears, and throwing axes

Mod Your Squad – Enhanced squad features allow players to define a role for their warriors in battle using custom squad perks to buff your hirdmen

A Viking to Your Liking – Design your own Viking or Saxon warrior, choosing everything from weapons and armor to battle perks, customized taunts to unhinge your foes, and a variety of beard options

Pick Your Battles – Game modes include up to 64-player epic battles, new hardcore "Pitched Arena" mode with 32 players and no respawns, and a Training Ground to test out new character builds
The lack of "a variety of beard options" is the great flaw at the heart of many games. From what I've seen, the environments are far more impressive than those in War of the Roses, although I am admittedly an admirer of soon-to-be-ruined monasteries and foggy dales.