Daddy Issues: BioShock 2 Launch Trailer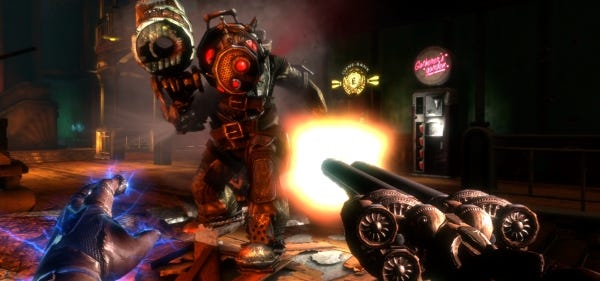 They sneak up on you, they really do. It's already time for the BioShock 2 launch trailer. In fact, Mr Alec Meer is playing it as I type. It's just around the corner, after seeming like perpetually a year away for about fifty-five years. So you should probably watch the very pretty pictures.
For all my griping about the combat in yesterday's podcast, it does look really rather incredible. Although I fear it won't let you feel as powerful as that trailer implies. Who knows. But gosh, look at that water.
I've a feeling big surprises await. The obsessive inclusion of the Big Sister in all the trailers suggests they're only showing us a glimpse of what's inside. Although this is my guess - I've not spoken to Alec yet, and he'd probably be shot by a 2K sniper if he tried to tell me. Anyhow, here's the trailer. Please to enjoy.