Dan Dare The Automator: Distant Worlds - Universe
The complete Distant Worlds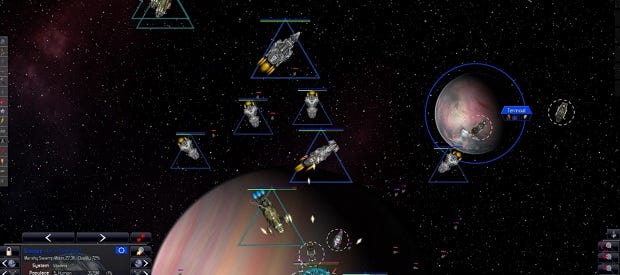 An exciting day. Even more exciting than an ordinary Friday. Even more exciting than an extraordinary Friday that marks the beginning of a long weekend (lot of those recently in this part of the world). Today is exciting because Distant Worlds: Universe has arrived, a standalone sequel/collection containing every previous release in the series as well as various improvements, new modding tools and a brand new storyline. If that's not enough, take note of the fact that you can also build planet destroyers. Distant Worlds is one of my favourite space strategy games, mainly because it convincingly simulates conflict and empire on such an enormous scale while allowing for minimal micromanagement thanks to smart automation. Lovely.
Universe is available via the Matrix Games store or through Steam. Owners of previous Distant Worlds games receive discounts as follows:
In order to thank the Distant Worlds community which has been supporting the series for years now, we are pleased to announce that players will be able to get a $10 discount for every Distant Worlds game/expansion they own. All Universe owners are also eligible to receive a Steam Key. For a limited period of time, there is also a launch discount of $10 off the regular price on both stores in order to celebrate the release and the beginning of an exciting new chapter for Distant Worlds.
I'm tempted to write a good deal more about this since the original release happened before I'd chosen a life of gaming criticism. For those who haven't encountered the series before, the figures and details in the following paragraph provide the information you need.
Vast galaxies are made to order: up to 1400 star systems, with up to 50,000 planets, moons and asteroids. Galaxies are so deep, fun and immersive that you won't want to finish the game. Build, expand and improve your empire while playing through one of the storylines, with victory conditions or in an open-ended sandbox mode.

Each galaxy is packed with life and activity. Encounter other empires, independent alien colonies, traders, pirates and space monsters. Explore star systems, asteroid fields, gas clouds, supernovae, galactic storms and black holes. Discover evidence of civilizations long since past, uncovering secrets about the galaxy's troubled history...
Or you could always refer to the first paragraph and the mention of planet destroyers.