Danganronpa Another Episode: Ultra Despair Girls bringing robobear-busting to PC
Robobear action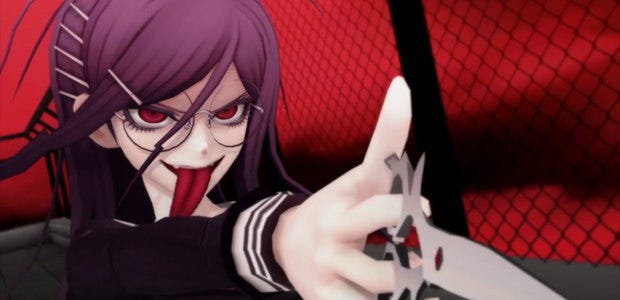 Both of Spike Chunsoft's Danganronpa wacky horror visual novels arrived on PC earlier this year, escaping through the portal from Consoleland, and now their spin-off is following too. Danganronpa Another Episode: Ultra Despair Girls [official site] is quite different to those other two, mind. While they were murder mysteries with trapped students investigating killings incited by a robobear, Ultra Despair Girls is more of a third-person shooter. It may be even weirder? If you consider a city overtaken by an army of murderous robobears so children can live without adults weird.
I'm not making that up. Here's what the Steam page says:
"Komaru Naegi, little sister to [the first game's protagonist] Makoto Naegi, has been imprisoned inside a mysterious apartment for over a year. One day, she is rescued by Byakuya Togami of Future Foundation, but the rescue is derailed by a sudden attack of hundreds of Monokumas. Komarusoon discovers that the city has been taken over by a group of children calling themselves the Warriors of Hope. Their leader, Monaca, declares that the city will be the site of a 'children's paradise,' and to accomplish this, all the adults will be exterminated. Komaru teams up with Toko Fukawa to try to survive the rampaging Monokumas, escape the crafty Monokuma Kids, and uncover the secrets of the city."
As you do.
Danganronpa Another Episode: Ultra Despair Girls will arrive on PC in summer 2017. Here's a trailer for the PlayStation 4 version announced alongside this: