Destructo-Sport: Dangerous Golf Out, Requires Xbox Pad
No mouse and keyboard support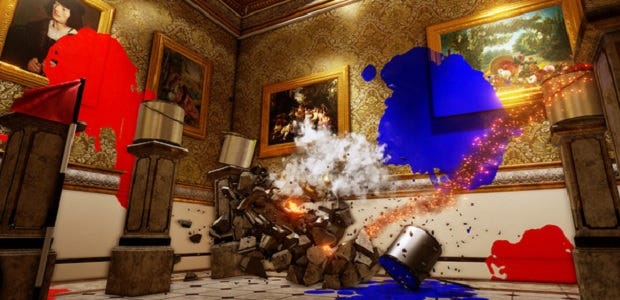 Dangerous Golf [official site] is a game about smashing environments to pieces using the traditional weaponry of club 'n' ball, as seen in sporting competition all around the world. In this version of the game known as golf, you'll leave the greens behind and set to work smashing kitchens, castles and convenience stores. Developed by new studio Three Fields, which is led Criterion co-founders Fiona Sperry and Alex Ward, the game is now out on PS4, Xbone and PC. It's the PC release we're interested in, of course, and Dangerous Golf has landed somewhat in the rough thanks to a lack of mouse and keyboard support.
The Steam store page does include a note on the need for a controller, at the bottom of the system requirements (you need to click 'read more' to see it), and the devs are active on the Steam forums explaining which controllers are supported:
Dangerous Golf does not support mouse and keyboard play. Unfortunately there is no native Windows support for PlayStation 4 controllers. Third party tools do exist. We suggest you refer to the Steam forums for support as there are many discussions there about this issue. Hope that helps.

We have had no issues to date with the 360 or Xbox One controllers. We don't have any control over the PlayStation 4 controller - Windows doesn't officially support it. Hence why we refer you to the Steam forums for advice on third party tools that will get it to work. Best of Luck.
That's the Xbox controllers as far as official support goes then, in both 360 and One varieties. If you can get your controller running using xinput or an equivalent of your choice, it might well work in-game, but there are no guarantees. This thread contains apparent confirmation that some Logitech pads will work, but I haven't checked that myself. For a PS4 pad, DS4Windows is our own Alec's software of choice.
Once in-game, with a controller ready to go, some people have also been struggling to find a way to adjust settings (options can be seen on this user screenshot). Three Fields have responded to those concerns as well.
The Settings are in the Clubhouse Menu option. Some people have reported not being able to find it.
I'm planning to try the game later on, using my crusty old 360 controller.