Dare to dream of a 1999 internet in Hypnospace Outlaw
Lost geocities of gold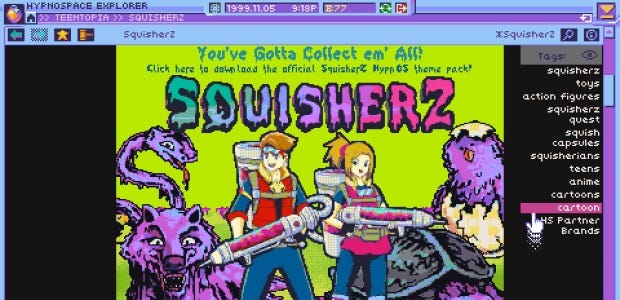 It's sometimes hard to believe that the internet of the late 90's wasn't some sort of bizarre techno-dream. Floating GIFs, embedded MIDIs and mouse cursors that transformed from site to site. Hypnospace Outlaw (from Dropsy developer Jay Tholen) is a game about exploring a fictional internet the likes of which we just about remember, keeping the peace when trolls and malware rear their ugly heads, or just getting lost in a sea of pop-ups and spam.
When we last heard about Hypnospace Outlaw back in 2016, it was fresh from a successful Kickstarter funding drive. Now, the game appears to have picked up some extra talent along the way, and in turn been picked up by publisher No More Robots. Today, they released a trailer that might explain a bit about what Hypnospace is.
The heart of Hypnospace Outlaw will be exploration-focused. There's a whole wide, weird internet out there and it's just begging to be poked around, but there are objectives to be completed and challenges to be risen to as a Hypnospace Enforcer. Stop internet bullying, set trolls straight and keep the internet running smoothly and you'll be paid in hard internet cash, which you can use to buy silly extras for your virtual desktop.
The original Kickstarter trailer for it also gives you a bit of a peek at the more traditionally game-like elements of Hypnospace Outlaw. How much of those are present and correct in the current iteration of the game is a mystery, of course, and two years of development on something as offbeat as this can result in massive changes. If nothing else, it'll be interesting to see how much it's changed since its initial debut.
While Jay and the gang aren't quite ready to dream up a release date for Hypnospace Outlaw, they do reckon that it will be released at some point this year. If this surreal techno-nonsense appeals to you (I know I'm excited), then you can wishlist it on Steam here.
Disclosure: Our recent Frostpunk review contributor Xalavier Nelson Jr is a wearer of many hats. One of those is most likely a luridly-patterned retro baseball cap that reads 'Hypnospace Outlaw Narrative Writer' on it in chunky, pixellated text. I bumped into him briefly at EGX Rezzed and asked him how you even write a narrative for a game like this. He laughed. Expect things to get weird on this one, folks.