Dark Side Of The Prune: Plants Vs Zombies Garden Warfare
Now with microtransactions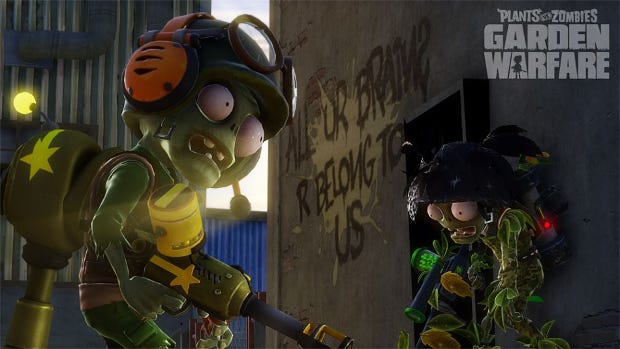 The PC release date trailer for green-thumbed shooter Plants Vs Zombies Garden Warfare is utterly preposterous. Of course it is, you might be thinking, it's a video promoting a third-person shooter Plants Vs Zombies spin-off. The trailer doesn't show the actual game though, choosing instead to put the Origin logo front and centre. This is a video in which a zombie logs into Origin, has a conversation with Origin in which the store offers to load up a Match 3 game, and then finds out that Garden Warfare is due for release on June 24th. The good news about the delayed launch is that we won't have to speculate as to whether the game was designed to allow for the introduction of microtransactions at a later date - they're arriving next week.
Most of the reviews I've peeked at anticipated the pay-to-progress (or unlock random goodies) option would be incoming as the game seemed to have a shop-sized hole in its design. EA don't use the 'm' word, referring to the payment options as precisely that. Options. They're opening up the experience to give you freedom:
Starting next week, players will be given the option to purchase coins from the Sticker Shop, which allows players the ability to access new packs and character content more quickly – all the same content that can be earned through regular gameplay. Now you have the choice to play your way; you can play to get new packs and content via earned coins in the game, or you can purchase coins to get more of the packs and content you want right away.
Some people are happier about this than others. I'm all for choice but I'm also wary of any game in which the process of making progress is enough of a chore that I might want to pay to skip it. And if I am going to spend money to unlock things, I'd rather be able to pick and choose than pay for a random selection. What is this - a Panini sticker album?
Preordering Garden Warfare will set you back £34.99.