Dark Souls III: Ashes Of Ariandel Shows Arena Action
3v3 arena action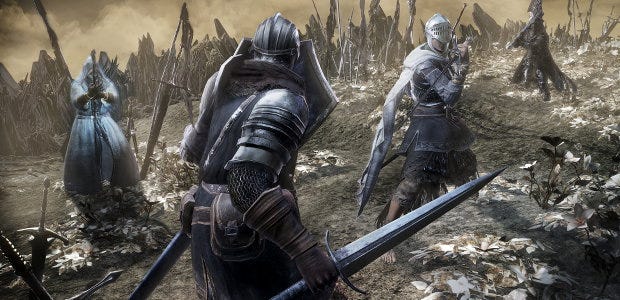 We've already had a peek at the singleplayer side of the first Dark Souls III [official site] DLC, which launches later this month, but what about the PvP? Along with a new hunk of singleplayer story, Ashes of Ariandel will add a bit to multiplayer too. Here, have a peek in this new trailer, which includes some serious-looking 3v3 arena action:
Publisher Bandai Namco are still being a bit vague about everything, so see what you can deduce from those snippets. Don't read too much into the "Choose your allegiance" chat - a Bamco person has said it's there to add a roleplaying-y tone to the trailer.
The singleplayer stuff, to refresh your memory, is a new storybit set in a new painted world. Both sides will benefit from the new weapons, items, spells, and so on, obvs.
Ashes of Ariandel is due to launch on October 25th. It'll come with as part of the DLC season pass, which costs £19.99/24,99€/$24.99 and will include the yet-unknown second DLC add-on, or Ashes will be £11.99/14,99€/$14.99 on its lonesome.