Dark Souls Meets Hotline Miami? That's Blood Alloy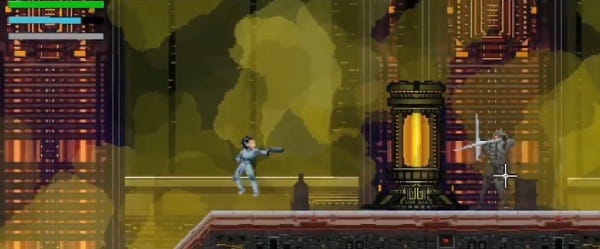 As I wade through the acres of lovely roguelikes that are so splendidly birthing from the gaming pods, my awful half-empty heart can't stop itself from asking one question: but what about all the metroidvanias? Why aren't we being overwhelmed by those, too? So thank goodness for Frank Washburn, who has thrown his Harmonix uniform into the laundry basket and donned the casualwear of an indie developer - Suppressive Fire Games. They're bringing us Blood Alloy.
We've all had days like this. You wake up in a laboratory, can't remember who on Earth you are, and then - tsk - discover that you've been converted into a cyborg against your will. Tuesdays, eh?! That's the fate of Blood Alloy's female lead character, who for reasons she doesn't know, has everyone she meets trying to make her all dead.
Hey, how about that! A metroidvania that looks like one! I'm loving that combination of SNESy graphics and mouse/keyboard-controlled action. And that's an interesting list of inspirations - Dark Souls, Vanquish and Hotline Miami. Right now my criticism would be that those jumps look incredibly floaty, but of course this is pre-alpha, so hopefully we'll see some gravity in there soon.
Oh, and a Kickstarter. I say that, because I've only just noticed, and in telling us about the project, Washburn didn't even mention it. He's only after $50k, and we do need more of this sort of thing.