Darkest Of Days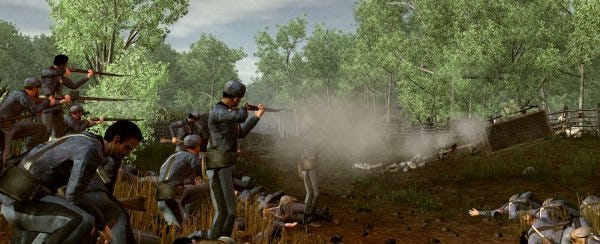 The official website for upcoming time-travel shooter Darkest Of Days has been launched. The site includes an introductory video and some other assets, as well as the news that the game will feature epic-scale battles with dozens of enemies and allies in the same environment. (As illustrated by those American Civil War battle scenes.) Here's what they're saying about it:
In Darkest of Days, players will travel back and forth through the annals time to relive some mankind's most dire hours, when human society was at its lowest points. By fighting through terrible events such as The Battle of Antietam, the bloodiest conflict of the [American, natch - RPS] Civil War, and the volcanic eruption in Pompeii in the year 79, the player will attempt to save certain key individuals who were never meant to become involved in these truly monstrous events and thereby change human history for the better.
Looks like there's some World War I ("it's the new World War II") action in there too. This is publisher Phantom EFX's first outing into shooter style gaming, having previously sold a series of successful casino games. EDIT: The developer, as our comments point out, is 8Monkey Labs, and this seems to be their first game.