Date Worthy: The Sims 4 Due For Release Next Autumn
The Sims 4 dated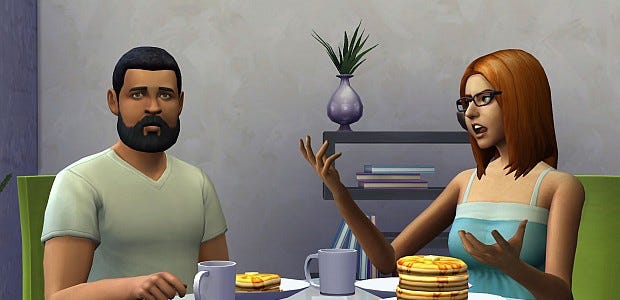 The Sims 4's big new feature is that your sims' emotions unlock context-sensitve actions and change their abilities. That means, as an example, that depressed sims make better novelists. I am here today to confirm that being sleepy and hungry does not make you better at writing game news on the internet. Also, that The Sims 4 is due out next Autumn, as picked up by Blues News.

But sitting at your computer at home all day does unlock the 'Crywank' action.
The Sims series is oft-mocked for its thousands of expansion packs, but I don't care. I love building houses, creating characters, and shaping their lives through a series of interesting decisions. Each game has improved the formula, too, with The Sims 3 minimising a bunch of the bladder-control micromanagement that plagued the original and allowing you to focus on creating sexy dramas between your platonic male friends.
EA also confirmed that unlike the troubled SimCity, Sims 4 will have an offline mode. That means that at the end of a long day of writing on Rock, Paper, Shotgun, I can kick back, unplug, and make a tiny little John kiss three clones of himself in turn, without the need to make finger puppets out of craft paper, which gets really tedious when they keep getting destroyed during all the rutting.
If you can't wait that long into the future to get back to The Sims, the Into the Future expansion pack for The Sims 3 is out now in North America and due out in Europe this Friday. It contains hoverboards, jetpacks, and maybe the opportunity to make John make out with a robot. I'll find out in the name of news and report back. In the meantime, here's its latest trailer: