Dawn of War 3 gets an update and a free weekend
New maps, units and more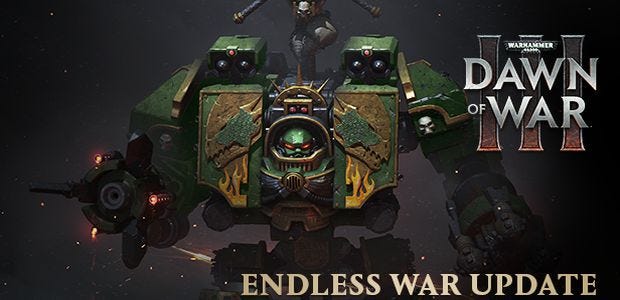 War... war has changed. The latest (and largest) Dawn of War 3 update, "Endless War", is now live. It adds new multiplayer maps, new elite units and new cosmetics to the Warhammer RTS.
If you don't own DoW3 but want to get in on the action, there's also a free weekend running from now until 9pm on Sunday, along with a 50% discount if you want the game for keepsies.
Here, have a trailer featuring all of the new stuff:
Let's take a look at the three new maps. There's "The Shrine of Asuryan", which takes place in a snowy Eldar temple. "Serpent Chasm" is a sand-swept plain surrounded by water and skeletal sea serpents, and "Da Extractor" is an 'Ork fuel rig...crusted with rust and algae'. Excellent holiday destinations, the lot of 'em.
I haven't played any of the game, which puts me in a great position to tell you what each of the three new units does!
Lifta-Droppa Wagon
A JCB digger, retooled by the Orks to harness the souls of their enemies and use them for entirely peaceful construction tasks.
Wraithseer Kayduin
The Wraithseer is an Eldar gardener, and an excellent late game choice for dealing with pesky overgrowing marigolds.
Ironclad Dreadnought
Probably some kind of Space Marine IT assistant.
The update also adds customisation options for matches, allowing players to toggle Elites, Doctrines, and faction super abilities on or off.
You can take part in the free weekend by going through Steam, where it's currently discounted for 50% off at £15. The free weekend ends at 9pm on Sunday the 22nd, and the deal is available until the 23rd.