DC Universe Reveals "Robotic Super-Egg"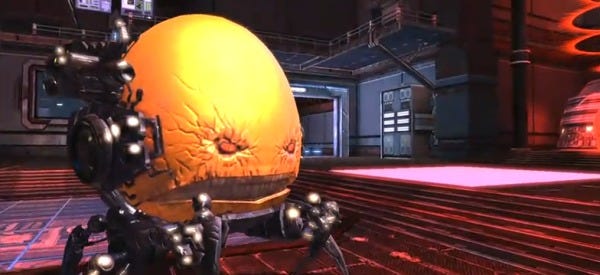 There's a new trailer for DC Universe Online! It has a robotic super-egg in it! What is going on?

Egg on my face. The robotic super-egg is not at all a ridiculous invention of Sony Online Entertainment or a dark reinterpretation of Dizzy, but rather a DC villain who dates all the way back to 1965. I'll just quote the relevant bits for you, shall I.
Egg Fu first debuted in Wonder Woman #157 (October 1965). He was a Chinese Communist agent, inexplicably shaped like an egg the size of a house, with a Charlie Chan-like speech pattern, who used his mustaches as whips against his enemies.
And:
Egg Fu the Fifth, a relative of the original Egg Fu, debuted in Wonder Woman #166 (November 1966)... Wonder Woman's plane is drawn underwater into a giant seashell. Frogmen attack her and take her prisoner. She is brought to a secret base controlled by Egg Fu the Fifth. Held prisoner by her own magic lasso, Wonder Woman offers to dance for Egg Fu. She then performs a bracelet-clashing dance which cracks Egg Fu and allows her to escape and rescue the stolen submarine.
But then:
Following the Crisis on Infinite Earths, a new version of Egg Fu was introduced in Wonder Woman vol. 2, #128 (December 1997). This Egg Fu is a nineteenth century super-computer, recently rediscovered and turned into one of many carnival attractions along Gateway City's Oceanside boardwalk, despite public protests that the attraction is racially insensitive.
And finally:
Following the events of Infinite Crisis, a new version of Egg Fu appears, calling himself Chang Tzu... Chang Tzu is the mastermind, along with Bruno "Ugly" Mannheim, behind the kidnappings of many mad scientists in the comic book series 52. They are forcibly recruited into Chang's "Science Squad" based on Oolong Island. Chang has a large, egg-shaped body with facial features and cracked skin, mounted in a spider-legged chair for mobility. He is equipped with small prosthetic hands that allow him to manipuate items and equipment; he is also armed with hidden weaponry.
So there you have it. Where was I? Oh yeah, MMORPG trailer.