Dead In Vinland demo offers a week of Viking survival
One week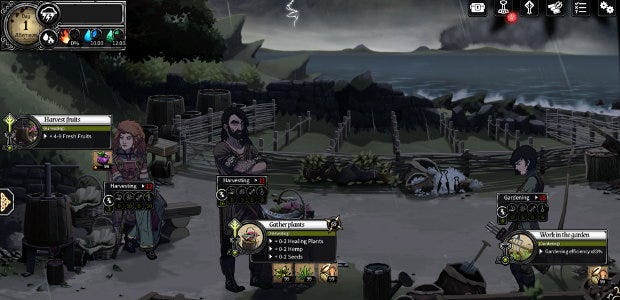 A demo is out now for Viking survive-o-management RPG Dead In Vinland, inviting us to play through one in-game week and see if we can hack life on a mysterious island.
"At its best, Dead in Vinland is compulsive, and a great example of systemic roguelike storytelling," Nic Rueben said in our Dead In Vinland review. But at its worst... ah, it's good that a demo is out now so people can see for themselves, because the game does have some quirks.
Wot Reubeun Thought had a lot positive to say, mind.
"So you have fights without much tension, and dialogue that frequently pulls you out of the experience, but expansive crafting trees, interesting anecdotes that arise organically from a constant struggle against harsh conditions, and difficulty that's meaty without being too oppressive. There's always something to work towards; a new portion of the map to explore, a new upgrade for one of your structures, and this is always at odds with your survival. Do you work a new addition to your camp to the brink of exhaustion to build a place to harvest fruit, or let them rest, but risk not having enough food to see you through the night? Do you try to cure your survivors starvation with rotten food, knowing sickness might lead to worse problems?"
You can answer those questions for yourself by download the demo through Steam. Look for the "Download Demo" button on the right. The game is also sold on GOG but the demo isn't up there quite yet - "very soon", the devs say.