Dead Rising 2: Moose Of The Dead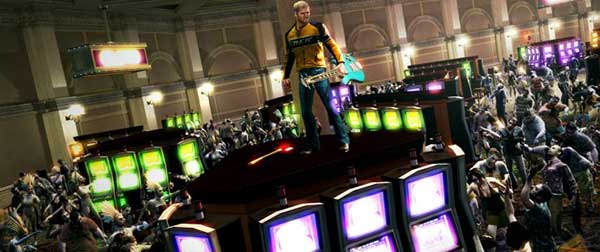 Given the entire internet is busy spaffing about this today, we might as well join the fray - if only cos it's always funny when someone accuses us of trying to be like Kotaku because we've posted something pop.
While Capcom's first tongue-in-cheek free-roaming zombie-smasher was strictly for the Xbox Three-Hundred-And-Sixty Machine, the 2010-due sequel will also arrive on our glorious personal computer boxes. Joy! Footage below, which despite being pretty crass includes at least two ultra-lol moments.

Key points:
- the setting's moved from a Dawn of the Dead homaging shopping mall to what appears to be a Vegas nod
- The protagonist doesn't look like a very nice man
- 6,000 on-screen zombies at once, apparently. Lawks.
- Moose!
- OH MY GOD HE JUST TOTALLY DROVE THROUGH A CROWD FULL OF ZOMBIES ON A MOTORBIKE WITH TWO CHAINSAWS STRAPPED TO IT.
Do we still have room in our hearts for another zombie death-orgy? For one as wantonly silly as this, surely the answer's yes. My main concern is that the first game stopped being fun about two hours into the storyline, due to a series of really awful bossfights. Hopefully lessons have been learned, but without making the sequel too aimless.