Dead Space 3 To Be The Straightest Of PC Ports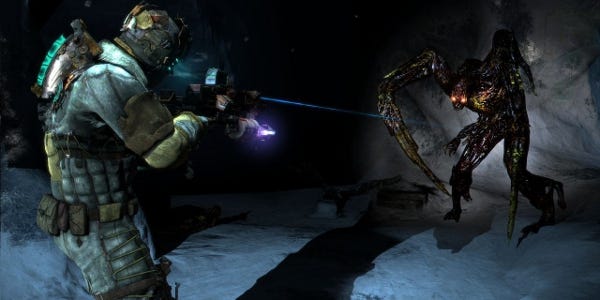 Dead Space 2's PC version launched sans replayability-enhancing DLC and with a mean bout of mouse-lag, but it was otherwise a serviceable step for horrifically mutated, disfigured man onto our platform of choice - if not exactly a giant leap. But that was years ago. So then, what sort of technological advancements has the unrestrained, godless science of our time wrought? Well, um, not really any, as it turns out. Bucking the recent trend of jingly, bell-and-whistle-laden triple-A PC ports, Dead Space 3 for PC will pretty much be the console version - but, you know, on PC.
Visceral broke the news to games.on.net, noting that its latest dread-dripping actioner won't support DirectX 11 or any eyeball-blistering HD texture packs - nor will it see any "further graphical enhancements above and beyond those seen on the PS3 or Xbox 360." We'll get a few (hopefully not preset) graphical options, and that'll be it.
Which, admittedly, is hardly the end of the world, so long as the game still runs smoothly. I think the potential echoing ramifications of co-op, sudden announcement of microtransactions, and - honestly - the Dead Space series' rather tired-looking bag of tricks are all far bigger concerns here. I played Dead Space 2 on PC and had a nice enough time. I don't expect anything markedly better from Dead Space 3, but I imagine it won't be any worse, either.
In its own way, I think this is actually a moment to reflect and be grateful. I mean, recent times have seen (in some cases literal) PC love letters from Borderlands 2, Crysis 3, BioShock Infinite, Battlefield 3, Metro, Dishonored, DmC: Devil May Cry, and heaps of others. Sure, a few lousy ports still slip into our midsts every once in a while, but - by and large - the triple-A needle's gradually turned in PC's favor over the past couple years. In that sense, I'm sort of happy that Dead Space 3's no-frills status counts as news. It's actually surprising. I'm not saying it should entirely be given a pass, but we live in good times, I think. It's important to be aware of that.