Dean Hall to unveil new RocketWerkz game at Rezzed
RocketWerking on something secret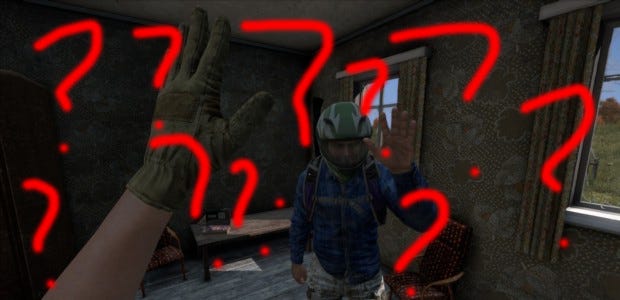 Dean Hall (him of DayZ creation fame, hence the header image) will be using EGX Rezzed to offer people the first chance to see and play the latest game from his studio, RocketWerkz. I've lost track of what Hall has been up to so having dug through the press release and the RPS archives the game in question is NOT Ion and it's NOT a VR thing (that one isn't surprising) but it IS PC-based and he's referring to it as "hardcore indie". I do not know if this means it is REALLY REALLY REALLY INDIE or that it is a hardcore game which happens to be indie.
"We are really keen to hear feedback from everyone at the show and Rezzed is the perfect place to show off a hardcore indie game," said Hall. "Making a PC title is difficult at the best of times, striking that sweet spot between systems and gameplay is only something that can come from working with players directly, so where better to unveil a new project?"
So there are systems and gameplay and, potentially, players. Jessica Fletcher would be proud of my detective skills here, you know?
It sounds like we will know more when the show opens, and then more still when Hall does his main stage talk on the Saturday.
RocketWerkz' previous game was the Vive-exclusive, playmobil-esque, tower defence strategy of Out Of Ammo (Alec's impressions of that title can be found here) and there was the sandbox space MMO Ion which was announced at E3 a while back but I don't think it ever really crystallised into a solid thing I could get my head around and hasn't come out as yet. There was also a game mentioned as per a Eurogamer feature in September 2016 which was billed as a multiplayer thingummy.
"What I will say is it's multiplayer," he said to Robert Purchese. "We're really drawing a line in the sand here and saying ... that's where we want to be planting our flag in the ground; carving out new territory in terms of new multiplayer genres, or re-purposing different parts of other genres."
There's a chance that what's being spoken about at Rezzed might be this particular thing - a triple-A multiplayer project - but Hall also said in that feature that the studio has "one other IP that's quite well developed and that's getting quite close to release". I get the impression that RocketWerkz is a place that really goes in for a lot of prototyping and experimenting as they try to figure things out so it might also be an unrelated third thing.
Byyyyyyyyyyyyyyyyyyyyyyyyyyyyyyyy the way, this also seems like an excellent juncture to remind you that we're partnering with Rezzed again this year and that you can come and hang out with us or come to our talks if that floats your boat. In between the systems and the gameplay and the player-ing of whatever this turns out to be, obviously. WAIT WAIT WAIT! What if it turns out that he's made a multiplayer online version of cats cradle? I would absolutely put on a clinic for these young people in their duffel coats with their yoyos and their GameBoys...