Death Is Becoming: Skyrim Patch Adds Killcams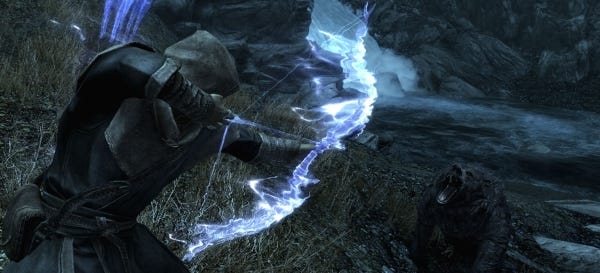 Brave beta-neers of Skyrim, wanderers on the frontier of electronic code, a reward awaits those Dovahkiin's willing to take a journey to the newly laid lands that the god Bethesda has minted in the dark, hidden lands of "Steam > Settings > Beta Participation > Skyrim Beta". There awaits violence of a most brutal sort, and leering eyes on the Grim Reaper's work. Dare ye stare into the Youtube oracle to glimpse the horror?

So, yeah: new beta Skyrim patch adds new melee death blows, and kill cams for ranged combat, all ideas plucked from Bethesda's internal Skyrim game jam. To get involved just add the "Skyrim Beta" to your Steam Settings. If you promise you're able to handle it, here's a preview of what the 224mb patch delivers. If my game wasn't crammed with mods, I'd reroll a new character right now. Instead I'm creating a Dovakhiin out of this bit of Blu Tac and repeatedly making him ride my porcelain cat.
I'd guess it'll take about a week for this become unbetanoided.