Death Stranding's sad posties traipse across some rocks
"Don't talk to me and my baby in a jar again"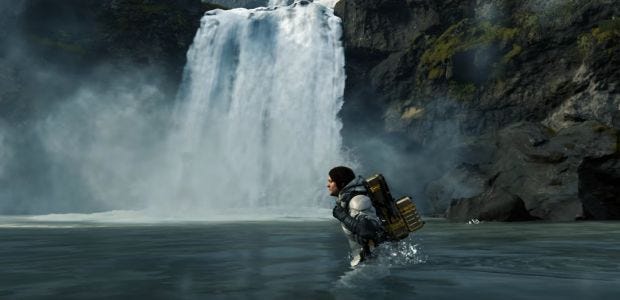 WILL IT BE ON PC OR NOT, KOJIMA? Good grief, will you just concentrate long enough to answer that one question. Death Stranding, the baby-coddling adventure from Kojima that was first shown at E3 two years ago, has released another bit of cinematic brain-vom that looks a bit more gamey than previous vids. It now looks (a bit) like something you might control. Prepare yourself for lots of sad postmen walking across a wet world full of irritated ghosts.
Don't talk to me or my baby in a jar ever again.
We now see that it's not just Norman Reedus of The Walking Dead and Mads Mikkelsen of Casino Royale lending their faces to Koj's mystery. There's also Léa Seydoux from Blue is the Warmest Colour and Lindsay Wagner of The Bionic Woman. Is he just making a movie and telling us it's a videogame? No. Hideo wouldn't do that.
There also seem to be a couple of clues about the rules that govern this world. Talk about people "coming back" and suggestions that the rain is bad for you. Those ghosts we saw before are also hanging about, with Norman - excuse me, Sam Bridges - using a shoulder-mounted machine to detect them.
There's no release date and no confirmation about its PC status. Back in the day Kojima Productions asserted that their first game would be out on PC after PS4, but they, er, might have forgotten. We'll let you know if they shirk their duty.
Check out our E3 2018 tag for more announcements, trailers, news, and goodness knows what else.