Asymmetric multiplayer hunter Deathgarden stalks into early access
The hunt begins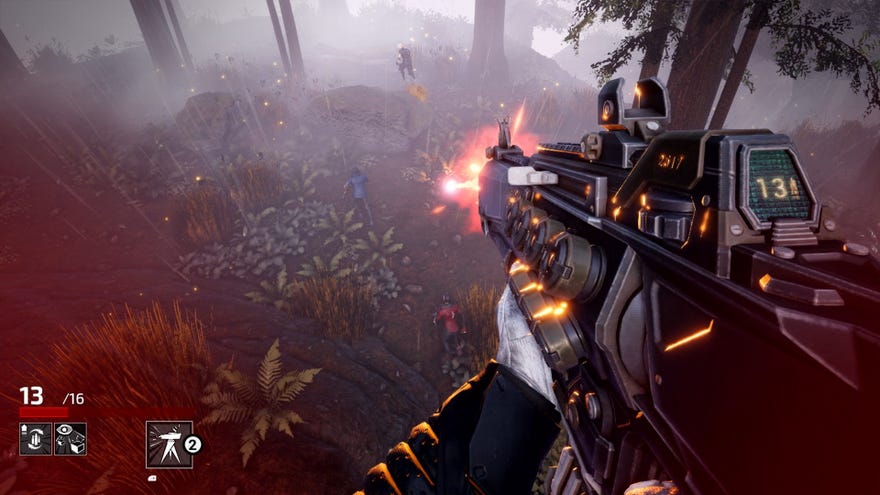 There's no time to smell the roses in Deathgarden. You'll either be too busy parkouring away from a chunky marine, or embodying that soldier yourself as you hunt down the five other players in each game. Think Evolve, but with a gaggle of archers whose focus is on fleeing a dude with a gun rather than bringing down a big beastie. Also they're all humans on a Hunger Games style TV show. I'm not sure it even has any roses.
Developers Behaviour Digital have form with this sort of asymmetric multiplayer romp, albeit through the stealthy horror lens of Dead By Daylight. Deathgarden just came out on early access, and you can try it for free for these first few days.
The hunter's guns look a bit limp, but I'm mainly interested in playing as the runners anyway. Roly-polying away from my would-be-murderer sounds like a fun time, especially as part of a coordinated team.
Each hunt takes place on a procedurally generated map, which promises to stop every game from playing out too similarly. I like that both hunters and hunted will start off a little lost.
The devs say they're hoping to spend between six months and a year in early access. They've got plans to add more "Perks, Powers and Weapons", new weather effects, an additional map and cosmetics that "highlight and reward player dedication". They promise that any weapons or abilities that affect how the game plays will be instantly available for everyone, which is a relief. When I popped into Hunt: Showdown during its recent free weekend, I was reminded how irksome it can be when other players have access to stuff you don't.
This first week is free, but as of August 21st Deathgarden will cost £25/€30/$30 on Steam Early Access.