Defiance Offers Facts And Screenshots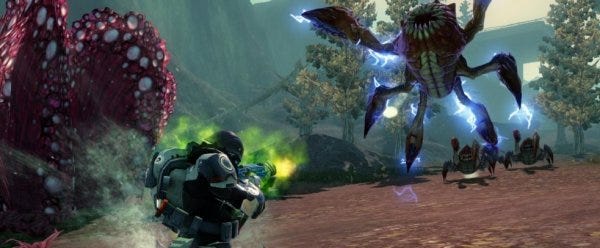 One of the more unusual announcements from E3 was that of Defiance, a cross-platform MMO, that is also a cross-media project incorporating a TV show alongside the game. It's being developed by Trion Worlds (of Rift) and the television channel SyFy. Anyway, it turns out that the game is "set in a futuristic San Francisco Bay Area", and will be a mission-based third-person shooter, in which you can play as human or alien races. I've posted the full fact-o-thing and screenshots below. Click for full size.


Defiance Fact Sheet
On a future Earth ravaged by aliens and 50 years of global war, a civilization emerges that rejects the old ways to forge a new destiny in a wild frontier. Can the connection between a lawman trying to keep his town safe and a new kind of gold rush in San Francisco hold the only hope for a better future?

Defiance is the first multi-platform shooter MMO which, in a ground-breaking entertainment experience, interconnects with a global television program on Syfy, cable's premier imagination based entertainment channel. It is being developed for the PC, Xbox 360® video game and entertainment system from Microsoft, and PlayStation®3 computer entertainment system.

In Defiance players and viewers are introduced to a world where humans and aliens live together on a planet ravaged by decades of conflict. The game combines the intense action of a shooter, with the persistence, scale, and customization of an MMO, while its TV counterpart exudes the scope, story, and drama of a classic sci-fi epic. Because they exist in a single universe, the show and the game will influence each other and evolve together over time, with actions in both mediums driving the overall story of Defiance.

The creative forces behind Defiance have worked on the top online games of the past decade, including RIFT, Everquest, and World of Warcraft.

An Adventure For The Masses – Intense third-person shooter gameplay focused on story-driven missions designed to be played solo or with other live players in the world around you.

A Massive, Persistent World - Fully realized, persistent open world (no loading screens between zones) set in a futuristic San Francisco Bay Area, supporting tens of thousands of simultaneous live players.

Customize Your Character - Custom character creation, where you can play as a human or alien, modify your appearance, select different specializations, and become a unique citizen of the world.

Player Progression Evolved - Console-native shooter with a multitude of weapons, armors, and special abilities that evolve with experience.

Unending Gameplay - With missions, emergencies, and endless exploration opportunities across a giant game world, Defiance is the genre-changing title that is sure to keep players engaged for years.