Destiny 2 shows off 4K shootbangs ahead of PC beta
Bungie beta bound for blizzard battle.net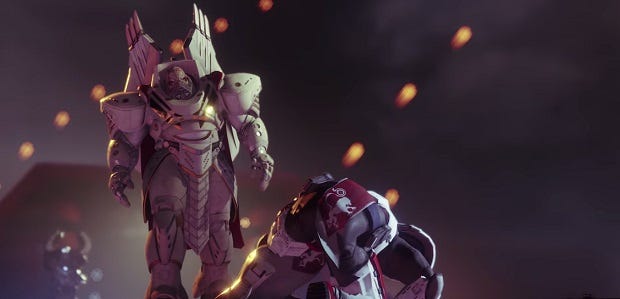 A new trailer for Destiny 2's [official site] PC beta has arrived and like so much of the marketing, it's nodding at all your PC's most powerful components in a suggestive fashion: "With that kind of equipment, I can go full 4K with an uncapped framerate." Even though the game itself is coming to PC later than console, as is the beta which arrives August 29th, it plans to use the extra time to really preen itself. Pre-order and you can join the beta a day early, but it'll open up worldwide on the 29th, through the recently rebranded Blizzard.Battle/NothingButNet.
Speaking of BattleNet, Bungie recently reiterated that there are no plans to release Destiny 2 anywhere else on PC. "We're with Blizzard", says Bungie community manager DeeJ.
Confession time! I didn't know Destiny 2 was going to be exclusive to BlizzBatt but if I'd been paying attention, I'd have picked up on that since it was mentioned in the earliest announcements. DeeJ restated the retail plans in response to suggestions that Destiny 1 might pop up on Steam following the appearance of in-game currency on Valve's storefront.
This was an error.
Destiny transactions on Steam were made available in error. All purchases will be refunded manually by Valve. Sorry for the confusion!

— David James Dague (@DJDague) August 15, 2017
The beta will contain the first level of the campaign, along with a three-player cooperative mission, Inverted Spire, and 4v4 competitive multiplayer. Alice has already looked into how it'll differ from the earlier console beta. Since Pip knows everything about Destiny, I plan to cooperate with her and to fight against John. We'd probably be able to spend the entire beta period (August 29-31) failing to kill one another, and then putting aside our differences and just looking at all of the colours for a while.
I love what I've already played of the campaign. The original completely passed me by and I was expecting combat to be much flatter, with lots of chipping away at health bars and waiting for skill timers to trickle down. Instead, I was blasting aliens across the surface of starships and watching them slide off the edge into space. I approve.
Quick date recap: open beta starts August 29th and ends on the 31st, and the full launch is October 24th.