Destiny Not Coming To PC, Bungie Deny Reality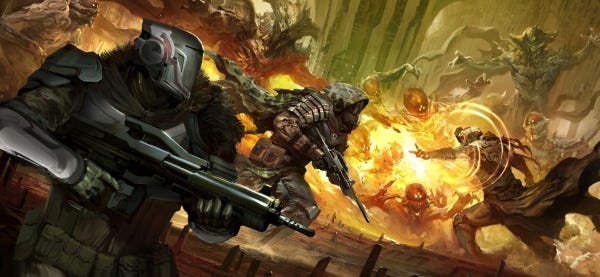 Halo creators Bungie have announced the platforms for their next game, online shooter Destiny, and PC is not amongst them. With 360 and PS3 versions certain, and next-gen consoles hinted at, it would seem to make a certain degree of sense to release the game on the format most suited to online FPS. But no, because according to Bungie, of mouse and keyboard players, "Nobody plays shooters the way they used to... 'cause nobody wants to."
This was the studio's co-founder, Jason Jones, according to Destructoid. To give you the full statement, so you can make your own interpretation of his words, he said:
"We did a bunch of ambitious things on Halo deliberately to reach out to people. We limited players to two weapons, we gave them recharging health, we automatically saved and restored the game - almost heretical things to first-person shooters at the time. We made the game run without a mouse and keyboard. And now nobody plays shooters the way they used to play them before Halo 'cause nobody wants to."
There are two possibilities. Jason Jones has never heard of Team Fortress 2, Counter-Strike, or any other number of hugely played online FPS games for the PC. Or this is a misunderstanding. I'm sure what he meant to say was, "We couldn't be bothered to make a PC version," but for some reason it came out as, "Blurble flurble flipple-flopple ploooooooo."
Perhaps he misspoke, perhaps he's a braggart who thinks Halo changed the face of FPS while no one else noticed, perhaps he just meant the regenerating health thing, and not PC at all? But I'm pretty sure I'd like to see him going up against some of the best online FPS players in the world, him with his joystick, them with their mice and keyboards that they haven't been told they don't want to use any more.