Desync is out with combo kills and neon glare aplenty
Pew pow!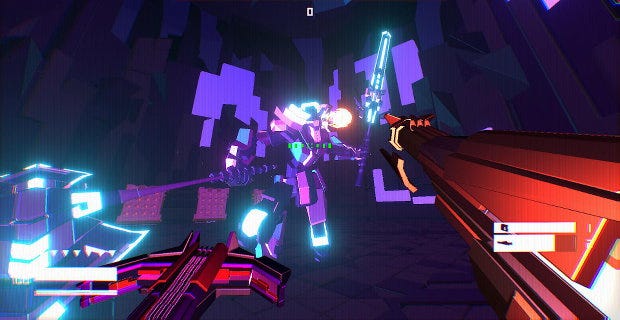 Circle-strafing, leaderboard-climbing, backpedalling, shooting-enemies-into-traps, combo-killing FPS Desync [official site] is now out, offering those throwback cool murders and more in a garish neon package. Here, pop on your shades for this trailer (no, really, you might want to - it's all a bit much, especially with the scanlines):
I've only just noticed, watching that trailer, that at some point in development Desync's faked scanlines switched from horizontal to vertical. Does that make this game pinstriped? How very professional.
Desync doesn't look to have quite the pace and megatoughness of 2016's bestest best game, Devil Daggers but, y'know, I'm glad someone is still making video games for babbies. Desync even has levels, for the dear little lambs who require things like that in an FPS.
Supposedly its score system track metrics "including mobility, situational awareness, accuracy, mouse movement patterns, attack variety, and more," which is curious. Scores often track the side effects of those - awareness and good mouse movement mean you kill faster and more accurately and can take less damage, obviously -- but not the raw elements. I suppose if you're really up for honing a run, that could offer plenty to optimise. My hypothetical scoring system would include bonuses both for looking directly at explosions and for walking away from them like a cool guy; anything between staring and posing is disrespectful to explosions.
Desync is out on Steam for £9.34/12,74€/$12.74, which includes a launch discount for the first week. It's made by The Foregone Syndicate and published by Adult Swim Games.
I've not had a crack at Desync yet myself because I've been busy winning knife fights in Night in the Woods but this is very much on my list.