We Can Rebuild It: Deus Ex Revision Out Now
Airbrushed and augmented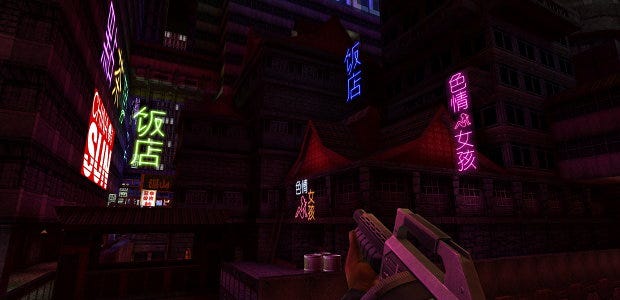 Deus Ex: Revision [official site] is a project that overhauls "the environments and soundtrack" of Ion Storm's classic, and it's out now on Steam. The release has the backing of Deus Ex's current publishers and developers (Square Enix and Eidos Montreal), and is designed to work exclusively with the Steam release of the original.
Caustic Creative are the folks responsible and their creative director, John French, describes the project as a "love letter to the game and its fans".
"Revision is a complete overhaul of the original Deus Ex. We bring in new level design, new music, and new world-building detail. On top of that, we also bundle in some of the best enhancements the community has to offer: high-detail textures and models, Direct3D 9 rendering, and alternate gameplay modes."
Three months ago, Caustic posted about their conversations with Square Enix and were hopeful they'd be able to release soon. Good to see that everything went smoothly. There was also talk of releasing the framework used for Revision to the modding community:
"[to make the changes] we started using portions of what has been named the Revision Framework (so named because we led to its creation, not because it is exclusive to the inner workings of our project), a piece of tech that makes it relatively easy to expand on the game's content and systems. We are quietly working on RF, intending for it to be released to the DX modding community."
Here's a launch trailer:
If you want to join in on the fun and don't have a Steam version of Deus Ex yet, there's an 80% discount running through to the 16th. It's down to £0.99.
I don't really need to ramp up my excitement for new Deus Ex to higher levels, having been so recently won over by Eidos Montreal's vision of the future but I'm almost definitely going to install this later tonight. I need an excuse to replay Deus Ex about as much as I need an excuse to have a beer. Beers and Denton tonight then.