Devilsaur Druid deck list guide - Witchwood - Hearthstone (June 2018)
How to get started with the new Druid archetype this month.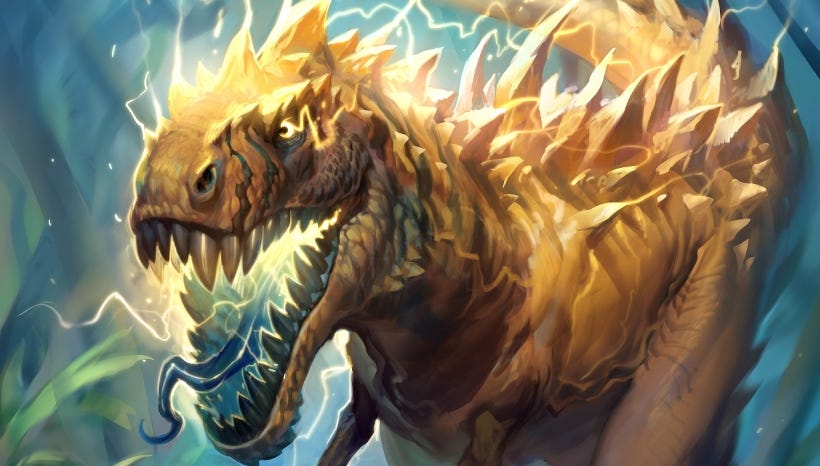 Devilsaur Druid is a deck that finds itself somewhat on the fringe of the competitive meta right now, but it's nevertheless a lot of fun to play and so well worthy of highlighting on Metabomb. It's an archetype that mixes cards such as Devilsaur Druid, Carnivorous Cube, Spiritsinger Umbra and Naturalize together to create a show-stopping finale.
In the first edition of our Devilsaur Druid guide we've highlighted what seems to be the strongest version of the deck in play at the moment. We've also got a few Mulligan tips, an overview of the strategy behind the deck, and a closer look at all the combos that make the archetype tick. If the guide proves popular we'll expand on it even further over time.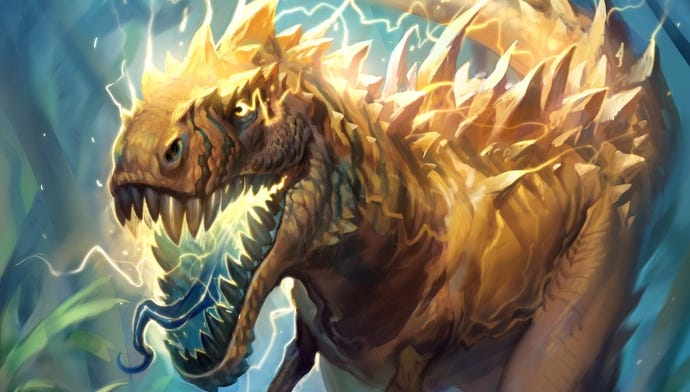 Devilsaur Druid deck list and strategy
As it's a relatively new deck to hit the Hearthstone meta, Devilsaur Druid continues to be refined. Still, we think this is probably the strongest version of the archetype that you can play today. We'll update this again as we approach the start of the next season of competitive play.
| Druid | Neutral |
| --- | --- |
| 2 x Lesser Jasper Spellstone | 1 x Spiritsinger Umbra |
| 2 x Naturalize | 2 x Arcane Tyrant |
| 2 x Wild Growth | 2 x Carnivorous Cube |
| 2 x Wrath | 2 x Charged Devilsaur |
| 2 x Ferocious Howl | |
| 2 x Witching Hour | |
| 1 x Branching Paths | |
| 2 x Ironwood Golem | |
| 2 x Oaken Summons | |
| 2 x Swipe | |
| 2 x Nourish | |
| 2 x Ultimate Infestation | |
Select and copy the long ID string below, then create a deck in Hearthstone to export this deck into your game.
Deck Import ID: AAECAZICAsnCAp7SAg5AX+kBxAbkCMbCAofOApTSApjSAtvTAovhAoTmAo3wAr/yAgA=
The combo section at the bottom of this page explains how the deck functions in more detail, but here's a top-line look at the strategy behind playing Devilsaur Druid.
In the early game you want to focus on ramping up your Mana reserves using Wild Growth, and from there focus on building out your defensive capabilities through cards like Oaken Summons and Ferocious Howl.
The name of the game here really is survival and you've plenty of tools such as Wrath, Swipe and even Lesser Jasper Spellstone, which can be used to help stall the game until your big plays come around.
Those big plays revolve around the core dinosaur in this deck, Charged Devilsaur. This creature can be re-summoned by Witching Hour, for example, or duplicated with Carnivorous Cube. The Cube can then be obliterated with Naturalize in order to spawn a pair of dinos.
Put simply, it's all about controlling the board, preserving your health and bringing together all of the elements that will allow you to drop a devastating amount of damage on your opponent.
Devilsaur Druid Priest Mulligan guide
As a general rule of thumb you'll find the following cards to be very strong keeps in the current meta.
1. Wild Growth - By far and away the most important early-game card in this deck, and you should always play it at your earliest opportunity so you gain the extra Mana advantage across all subsequent turns.
2. Oaken Summons - This card not only provides you with extra armour defense, you're also guaranteed to pull either Ironwood Golem or Spiritsinger Umbra into play.
3. Nourish - Very much in third place, Nourish is nevertheless a valuable card that you'll almost always use for the Mana ramp. That said it also has card draw potential if things have gone badly wrong and you need to find an answer fast.
Devilsaur Druid tips, combos and synergies
Here's a closer look at every combo that exists in this particular take on Devilsaur Druid. Take note of all these and you'll be ready for the ladder in no time:
- The vanilla version of Lesser Jasper Spellstone does just two points of damage to a minion. Gain three points of armour though and that damage is increased to four. Gain another three armour and the damage tops out at six.
- Naturalize has important combo potential with Carnivorous Cube after the Cube has chomped through a Charged Devilsaur. Once destroyed, the Cube will generate a pair of dinosaurs for you to cause mayhem with.
- Cast Ferocious Howl and you'll not only draw a card, you'll also gain armour equal to the number of cards that are in your hand.
- Witching Hour will summon a random friendly Beast that died earlier on in the match. There's only one qualifying candidate for this effect in the deck, and that's Charged Devilsaur.
- If Spiritsinger Umbra is out in play, applying Carnivorous Cube to a Charged Devilaur will cause a pair of dinosaurs to spawn.
- The cost of Arcane Tyrant is reduced to zero for the current turn if you've first of all cast a spell costing five or more Mana. Nourish and Ultimate Infestation can be used to gain this bonus effect.