Devolver Digital acquire Gunbrella developers Doinksoft
Acquisition spree continues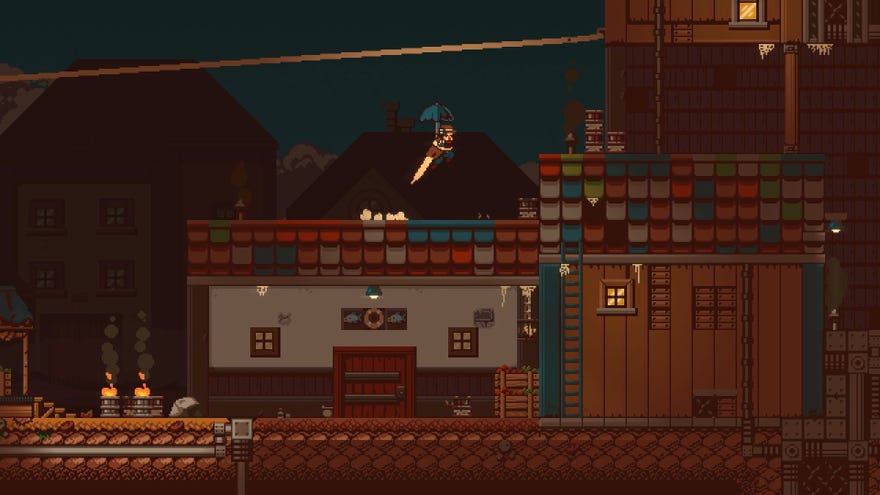 Devolver Digital have acquired Doinksoft, the developers of kitty mech platformer Gato Roboto and the upcoming Gunbrella. All of the indie team's games had thus far been published by Devolver, including a physical-only Switch game, Demon Throttle, and the Devolver Bootleg compilation.
Devolver announced the news on Twitter:
Today is a historic moment. We are excited to announce that the world-renowned franchises and talented people at @doinksoft will be joining Team Devolver! pic.twitter.com/16wP3iH6Ab

— Devolver Digital (@devolverdigital) April 3, 2023
(Red Dead Redemption has become a running joke for Deolver.)
Devolver Digital don't historically buy the developers whose games they published, although that has started to change in recent years. In 2020 they acquired Serious Sam developers Croteam, and then followed it up in 2021 by acquiring Reigns developers Nerial, Stronghold developers Firefly and Enter The Gungeon developers Dodge Roll.
Dave (RPS in peace) reviewed Gato Roboto back in 2019 and found it a decent, if short and ultimately unremarkable metroidvania. We also asked Nic Reuben to review the Devolver Bootleg's demakes of eight previous Devolver games and he found it cute but one note. This paragraph is starting to sound more negative than expected so let's pull out of it.
Gunbrella, which casts you as a murderous Mary Poppins with an umbrella that lets you float and fire bullets, was funbrella when I played its demo last year. It's currently on the list of our most anticipated games of 2023.