Diablincoln: Second Chance Heroes Fuses ARPGs, History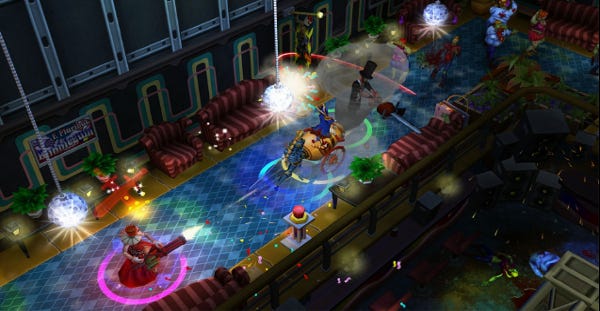 Second Chance Heroes looks like an aggressively silly thing. The basic idea is that modern society has made us terrible at everything, so when, like, 12 different apocalypses strike, we have to clone long-dead historical heroes to clean up our mess of irradiated alien fast food zombots. The game takes the form of a Diablo-esque ARPG, but with a billion outlandish locations and ridiculous characters to unlock. Yes, it probably screams, "LOOK AT ME, I AM GOOFY WARBLE WARBLE MOO" a little too loudly, but at this stage, I'm still definitely willing to give it the benefit of the doubt. Trailer with just the right amount of Abraham Lincoln after the break.
So yes, it looks like a fairly standard ARPG mechanics-wise, but with an unrelentingly colorful "everything and the kitchen sink" approach to, er, everything. You have to respect a game that holds nothing back, and goodness, Second Chance Heroes definitely fits the bill.
"Second Chance Heroes is a cooperative action RPG that takes place in a world overrun by apocalyptic disasters! Made weak by over-exposure to kitten videos, reality TV and ironic photos of bacon, the citizens of the modern world are entirely unprepared when the end of the world arrives! Unable to save ourselves from evil robots, nuclear missiles, sentient fast food, alien invasions and hordes of the undead, our only hope lies in the past. Put together a dream team of cloned heroes drawn from throughout human history and use them to push back the apocalyptic tide! Or don't and just let the zombie chickens eat your face."
Obvious standouts from the trailer include Joan of Arc, Abraham Lincoln, Napoleon, and Queen Elizabeth I, but that's just the tip of a single iceberg afloat in a sea of madness. Also, the whole game's co-op, so you won't simply be hoarding history's finest minds for whatever other reason people do that.
Developer Rocket City Studios is about to kick off a closed beta, and you can sign up using this form that's under the eternal vigilance of an undead chicken. The full game's set to launch sometime this summer, so gird your anachronism glands. Gird them until the sight of Lincoln wielding a bullet-gurgling minigun is no more foreign to you than your own reflection or your Lincoln-hat-clad Fallout 3 character wielding a bullet-gurgling minigun.