Necromancers And Diablo 1 Remake Coming To Diablo 3
Blizzard finally gives everyone nostalgia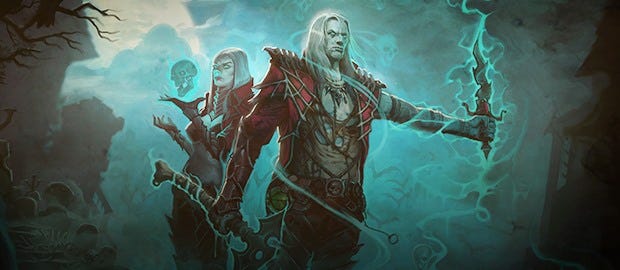 Update: Yikes! Blizzard has confirmed The Darkening of Tristram will be an event taking place in Diablo III in January, and will return annually (side note: holiday events seem to be all the rage right now) as an anniversary-themed homage. The event will be home to some exclusive loot, including the soulstone from the original Diablo along with the Butcher's clever and Wirt's leg. Keen beans will be able to access the event from the test realm starting next week.
Original story:
Fresh information has dropped out from the sleeve of Blizzard CEO Mike Morhaime's wonderful bowling shirts: the Necromancer class will be coming to Diablo 3 [official site] next year. But what's that hiding in the other arm? Blizzard is also remaking the very first Diablo in the Diablo III engine, and that's coming out in the next couple of months.
But why now? November is the time of year where Blizzard takes to Anaheim for BlizzCon, and 2016 is the year of multiple Blizzversaries: including for Diablo, which is now 20 years old.
It's important to note these announcements don't form a new expansion. The Necromancer will be sold separately as part of a Rise of the Necromancer pack. Fun fact: when Diablo II launched many many many years ago, the Necromancer's exploding corpse ability (sometimes writing about games makes you realise how bizarre they can be) was so hilariously overpowered it was absolutely brilliant, though quickly fixed. They really don't make them like they used to, although it looks like they're trying.
Along with the Necromancer class, the pack will also come with various other doodads and customisable thingies: an in-game pet, two additional character slots, two more stash tabs, and more portrait frames, pennants, banners and sigils. Here's a trailer for it:
Meanwhile, the Diablo I remake will be turning up on the game's public test realm next week as part of an update called Darkening of Tristram. Here you'll return to the original Cathedral and its 16 levels, as well as face off with the original four bosses - even though the Butcher sort-of returned in Diablo III. It's definitely retro, mind: movement will be locked to eight planes and Blizzard is working on brand new whizzy graphical effects to make everything look really, really old. But I bet it won't run on a 60MHz Pentium with 8MB of RAM anymore.
Blizzard also announced two new zones will also be coming to Diablo III's Adventure Mode, known as Shrouded Moors and Temple of the First Born. Nowhere in Diablo ever sounds particularly nice, does it? No wonder it's all so miserable over near Tristram.
Though Blizzard didn't explicitly say, I would say it's safe bet to assume these new zones will come with a bevy of new items to obsess over, so you'll running its various new gauntlets time and time again until the Merciless Random Number Generators produce something which fits your build.
While it's not the Diablo IV reveal some were probably hoping for, I think it's cool to see Blizzard continue to support Diablo III for so long after launch, especially when its lukewarm online reception ensured it was once the de facto problem child of the Blizzard family. The game is virtually unrecognisable now than it was four years ago, and it looks like it's continuing to change. Who's ready to blow up some corpses?
There are some more details over on the Blizzcon site, including some lovely Necromancer gifs.