Digital deals so far this week
Winter wonders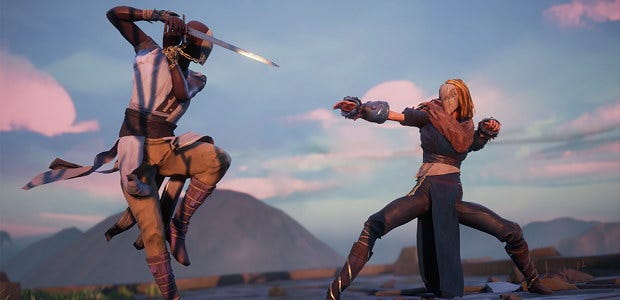 We're not only midway through the week, but also midway through December now, which means that the spectre of Christmas is looming ever closer. Sounds like a good time to check in with some of the very best deals on digital downloads, right? That's just what I've got for you, conveniently enough.
Once more into the breach, my friends, for another mid-week digital deals roundup. Let's get to it, shall we?
GOG Winter Sale
As previously reported, GOG has launched its Winter Sale now, featuring well over 900 games with discounts of up to 90%. There's even a section for our very own recommendations.
Here are some highlights from the range:
The Witcher 3: Wild Hunt Game of the Year Edition for £13.99 / $19.99 / €19.95
Cuphead for £12.79 / $16.99 / €16.99
What Remains of Edith Finch for £11.99 / $15.99 / €15.99
Hellblade: Senua's Sacrifice for £18.79 / $22.49 / €22.40
Absolver for £12.59 / $14.99 / €14.99
Observer for £15.39 / $20.09 / €18.79
Ruiner for £10.09 / $13.39 / €13.39
Stardew Valley for £7.39 / $9.99 / €9.39
Torment: Tides of Numenera f0r £17.49 / $22.49 / €22.49
A Hat in Time for £11.49 / $14.99 / €13.99
If nothing else, you can consider this a reminder to claim that free copy of Grim Fandango while you still can, the offer ends soon.
GOG's Winter Sale range - Ends 26th December
NIS America sale at Humble
Over at the Humble Store right now, you'll be able to pick up a few titles from the NIS America sale, featuring up to 60% off titles that have a distinct anime bent to them. The range includes Disgaea and Disgaea 2 for 50% and 40% off respectively, as well as the Yomawari series, Phantom Brave, Psycho-Pass: Mandatory Happiness and Stranger of Sword City. Japanese games absolutely have the best names.
NIS America sale from Humble Store
Dawn of War 3, Quantum Break and The Long Dark in Humble Monthly
As a reminder, this month's Humble Monthly offering is a bit of a belter. For £10 / $12, you'll get instant access to Quantum Break, Dawn of War 3 and The Long Dark, as well as the stack of other Steam keys that will be headed your way once the month is out. You'll also get a 10% discount off games in the Humble Store and access to the Humble Trove which features a bunch of DRM-free games as well. The folks at Humble are always quick to mention that you can cancel at any time, as well, meaning if you just wanted it to be a one-month thing, that's cool.
Dawn of War 3, Quantum Break and The Long Dark for $12 / £10 in Humble Monthly
Okami HD with 20% off
At Green Man Gaming right now, you can pick up this week's new release of Okami HD with 20% off, bringing the cost down to £12.79, which should translate in your local currency to roughly the equivalent. This also makes it the cheapest price around for this one.
Okami HD for £12.79 from Green Man Gaming
Resident Evil 7 Gold Edition with 15% off
Also one of this week's new releases and discounted over at GMG, Resident Evil 7's fresh out of the oven Gold Edition, which pairs the original base game with all of its DLC (even the new bits) in one pack. This one is currently on offer for £33.99 or your local currency's version of that.
Resident Evil 7 Gold Edition for £33.99
Okay, that'll do it for now, I'll be back on Friday for a roundup of the best PC gaming deals of the week, as usual. In the meantime, I'll be off reminding myself how much I loved Resident Evil 7. Happy Wednesday.