Dino Dash: Primal Carnage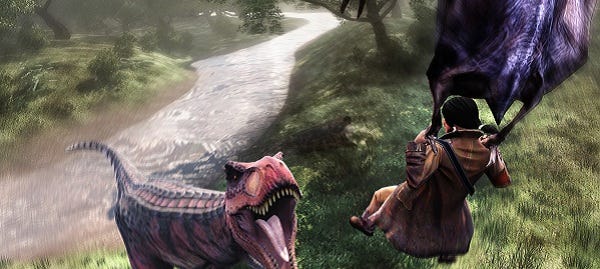 Only a fool would take the recent release of Orion: Dino Beatdown as evidence that there are sufficient dinosaur versus man games in the world. Until the dinosaurs outnumber the dead it is the duty of every so-called hunter of great game to demand more 'clever girl' and less 'shambling, idiotic ghoul'. Like a t-rex drooling on a leashed goat, John has salivated over previous footage of Primal Carnage in the past and now it's my turn to watch videos of the multiplayer massacre in a pose of slack-jawed admiration. Remember, dinosaurs and mercenaries alike are controlled by people.
This is alpha footage. Alpha. I expect the beta, signups for which begin soon, to be so exciting that playing it will make my monitor hyperventilate.